Cortana Suggested Reminders now available for Windows 10 -- iOS and Android soon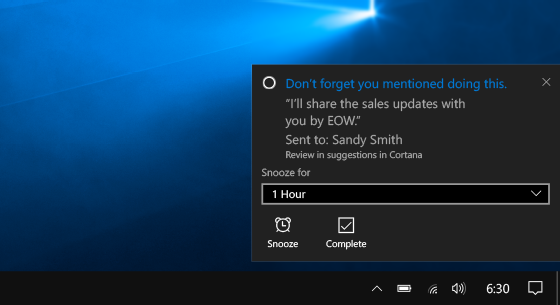 Voice assistants are changing the way consumers interact with their computers and devices. Services like Alexa and Siri are enabling people to use voice to ask questions and control home components, such as thermostats and lights. It really is an exceptional thing.
Microsoft's Cortana is also a great voice assistant, and since "she" is included in Windows 10, countless consumers already have access. Today, Microsoft announces that it is improving Cortana with a new feature called "Suggested Reminders". The assistant will scan your emails for dates and appointments, and then suggest reminders -- for times when maybe you forgot to do so yourself. Previously available to Windows Insiders, it is now an option for all Windows 10 users. There is one very big catch, however.
"We've all been in the situation where we've promised to do something in email, like send your boss a report by end of day, or purchase tickets to the movies for your date night. But the day goes on, emails pile up, and you quickly forget. Now Cortana has your back. Using machine learning technology developed in partnership with Microsoft Research, Cortana automatically recognizes when you make a commitment in email messages and will proactively suggest a reminder to you to follow through at just the right time," says Marcus Ash, Partner Group Program Manager, Cortana.
Ash further says, "Cortana does all the work in the background making this helpful feature incredibly easy to use. To get started, simply send emails as you would normally and when you'll do something, Cortana will recognize that and save the details in a suggested reminder for you. If you've specified a deadline in the email, Cortana will ping you before it's due and save it in the action center. Other suggested reminders will be in the Cortana home. No need to copy her on the email or change how you do things today, she will adapt to you."
So, what is this catch I speak of? Unfortunately, it is only available to Outlook.com or Office 365 work and school email addresses. Users of other popular email providers, such as Gmail, Yahoo, or iCloud are out of luck -- for now. Microsoft promises that more providers will be added at a future undisclosed date. The Windows-maker also promises future compatibility with iOS and Android -- it is Windows 10 only as of today.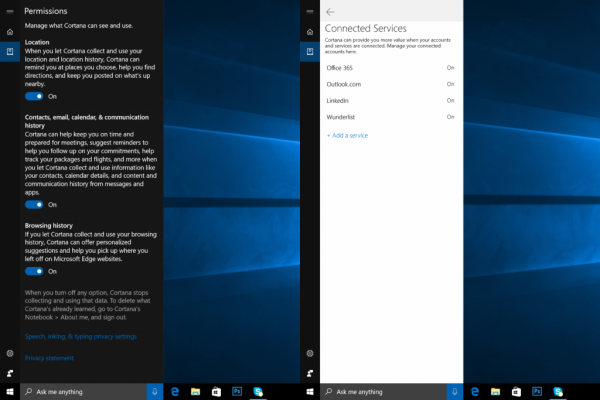 If you aren't sure how to set this feature up or to make sure it is working, Marcus Ash shares a tip below.
To check the feature out for yourself, make sure you're signed in to Cortana, and have given communications consent. Then check that either an Outlook.com or Office 365 work or school account is connected through the connected services section in your Cortana notebook. Try emailing yourself a commitment like 'I will send you the report by Friday' and look out for that suggested reminder from Cortana.
Are you excited to try Cortana Suggested Reminders? Are you concerned that Microsoft will be scanning your email content? Tell me in the comments.