Microsoft aims to calm cloud security fears with revamped Trust Center site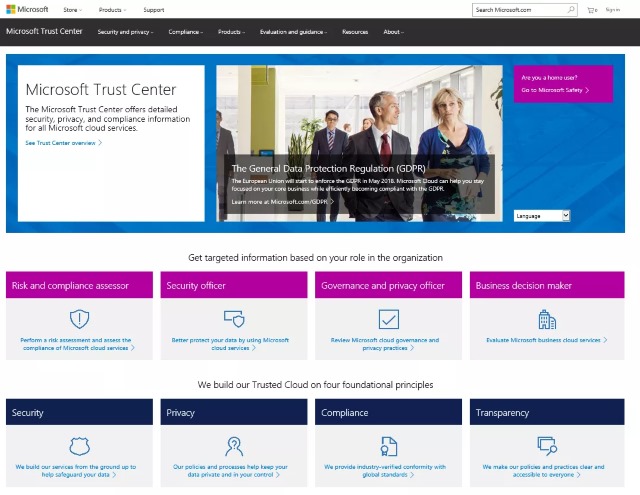 The modern Microsoft places more importance on the cloud than ever before, and this means addressing the security concerns that users might have. As part of this, the company has upgraded and redesigned its Trust Center, home to a wealth of security information.
Designed to provide "support and resources for information professionals, as well as the legal and compliance community," the Trust Center is also of interest to anyone concerned about security in general and those who want to know how Microsoft is complying with laws around the world.
The redesigned Microsoft Trust Center makes it easier to find information than ever before, and the information it contains is far wider. Writing on the Firehose blog, Microsoft says that the site includes "EU General Data Protection Regulation guidance, audit reports and security assessments, as well as information and guidance specific to key organizational roles and new content on various topics."
The company says that the changes to the Trust Center include:
Access to protected content, including SOC and ISO 27001 audit reports, certifications, and product security assessments, integrated into the Trust Center pages through the Service Trust Platform, which is available to customers with an active or trial subscription to one of Microsoft's business cloud services.
A GDPR homepage that will serve as the company's main resource for customers on the road to GDPR compliance, including guides to how some of our existing products and services, like Azure, Dynamics 365, and Office 365 can help you with the solutions you need to tackle each step of GDPR compliance.
Information and guidance specific to key organizational roles, including business managers, tenant admins or data security teams, risk assessment and privacy officers, and legal compliance teams.
New content areas, including resources for accessibility compliance, cybercrime, and industry-focused pages on finance, health, and media.
Head over to the Microsoft Trust Center to see what's new.