Nokia reimagines the classic 3310 for 2017, complete with Snake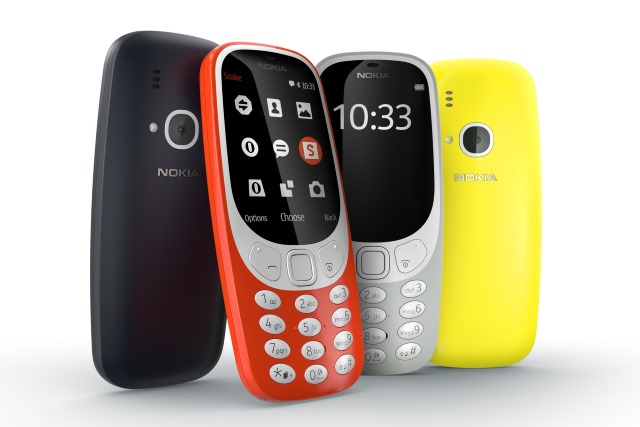 No, you have not just stepped back in time 20 years; the Nokia 3310 is back. The phone that was more likely to break the sidewalk when dropped rather than suffer a crack itself has today been relaunched by HMD Global, who has a license for the Nokia brand.
While not an exact replica of the phone that was first seen back in the year 2000 (a phone could not get away with being quite so chunky these days!), it's a modern take on a classic device, and it's sure to win over many people. Snake is present for whiling away a little time, but what else does the Nokia 3310 have to offer?
A low price is the first thing that springs to mind. At €49.99 this is a bargain basement phone, and it is one that is about much more than providing a nostalgia trip for phone users who yearn for the good old days of indestructible devices that could go days between charges. The phone runs on an updated version of the S30 software, and while it is a smartphone, it is a very, very basic one.
There are two SIM slots and this, coupled with the low price and excellent battery life (standby mode of over 25.3 days and talk time of over 22 hours) means this will make a great device for travellers and holiday takers who want to stay connected, but don't want to take their expensive smartphone with them. In addition to calls and texts, the Nokia 3310 includes Opera Mini for browsing the web, a very basic camera, an MP3 player... and Snake! What you see is what you get, however -- there's no way to add more apps.
Here are the all-important specs:
Dual band 900/1800 MHz
Nokia Series 30+ software
15.6 x 51.0 x 12.8mm
79.6 g
2.4" QVGA (240 x 320)
Dual micro SIM slots
Micro USB, 3.5mm jack
Bluetooth 3.0
2MP camera with LED flash
microSD card support up to 32 GB
LED flashlight
The Nokia 3310 is due to roll out in the second quarter of the year, and will be available in glossy finish Warm Red and Yellow, as well as matte finish Dark Blue and Grey.