How to block the installation of non-Windows Store apps in Windows 10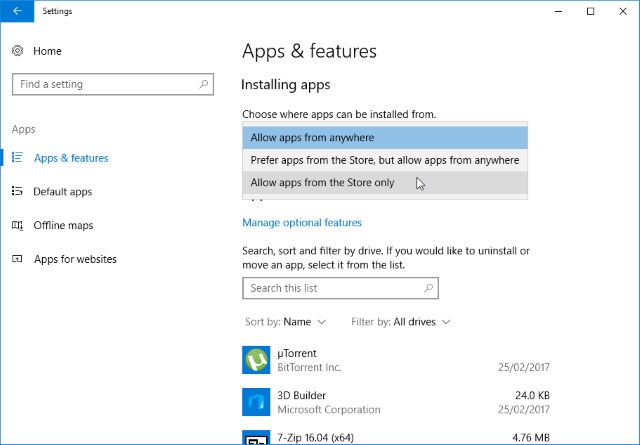 If you want to keep your computer secure and clutter-free, it's important to keep an eye on what gets installed. This is fairly easy if you're the only person to use your computer, but less so if you share it with kids or other members of your household. To make it easier to lock down Windows 10 Creators Update, you can block the installation of all software that doesn't come from the Windows Store.
Why would you want to do this? Well, blocking non-Windows Store software means blocking traditional programs, and these are the ones that are more liable to be malicious or pose a security threat. Apps that have made it into the Windows Store have -- in theory -- been vetted to some degree, and are less able to wreak havoc. Here's what you need to do.
Before you jump into this, there is something you need to keep in mind. At the moment, this option is only available in build 15042 of Windows 10 (also known as Creators Update); it may well remain in future builds, but it's not guaranteed, and there's no way to backport the option to pre-15042 builds.
With that in mind, follow these steps:
Open up Settings and head to Apps.
In the Apps & features section click the drop down menu beneath the Installing apps heading.
Select the option labeled Allow apps from the Store only.
Close Settings.
That's all there is to it. You can also opt to display a warning about non-Store apps if a user tries to install a classic Win32 app (but the installation will not be blocked) -- just select the Prefer apps from the Store, but allow apps from anywhere option.