Samsung partners with Microsoft to create the Windows 10-powered Galaxy Book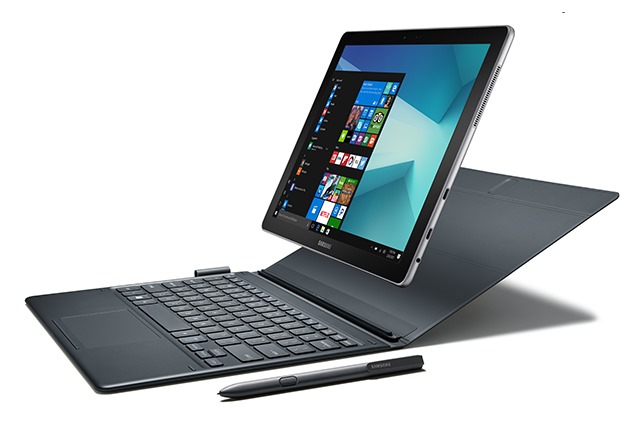 While attendees and fans of MWC 2017 were hoping for at least a little news about the Samsung Galaxy S8, Samsung forwent phones completely and instead offered up a pair of tablets: the Galaxy Tab S3, and the Galaxy Book.
The Galaxy Book is the fruit of an "expanded strategic partnership" between Samsung and Microsoft, and is described as a "premium 2-in-1 designed with the mobile enterprise customer in mind". Available in 10.6" and 12" models, there are natural comparisons to draw with both the Surface Pro 4 and Surface Book.
Both models are powered by 7th Gen Intel Core m3 processors -- running at 2.6GHz in the 10.6" tablet, and 3.1GHz in the larger one -- and feature LTE Cat.6 (300Mbps) support. While the two different sizes of Galaxy Book are reasonably similar in terms of specification, there is a degree of divergence. The 10.6" screen is a TFT FHD affair running at 1920x1280, while the 12" model is a Super AMOLED FHD with a resolution of 2160 x 1440.
The smaller Galaxy Book is available in two configurations: 4GB RAM with either 64GB or 128GB eMMC. The larger model also has two configurations: 4GB RAM with 128GB SSD, or 8GB RAM with 256GB SSD. Both models have a microSD slot that supports cards up to 256GB.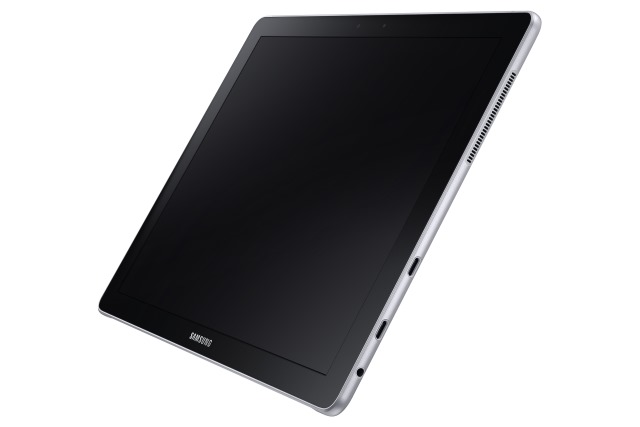 The more diminutive of the two devices features a single 5MP camera, one USB 3.1 (Type-C) port, and has a 30.4W battery with Fast Charging that offers up to 10 hours of power. Dimensions are 261.2 x 179.1 x 8.9 mm, with the Wi-Fi model weighing in at 640g and the LTE one at 650g.
The larger of the two Galaxy Books has a 13MP and a 5MP camera, two USB 3.1 (Type-C) ports, and a 39.04W Fast Charging battery that lasts up to 10.5 hours. In terms of size, the 12" model measures 291.3 x 199.8 x 7.4mm, and weighs 754g.
Both devices support the latest S Pen, and this can be used for note-taking even when the screen is not on. The S Pen, along with a keyboard, is supplied with both models, giving buyers the choice of working in tablet or laptop mode.
For anyone who has already bought into the Galaxy name, Samsung Flow has a lot to offer as Microsoft shares:
Creating a complete ecosystem that allows simple communication between devices is a key component to a successful mobile transformation. Samsung improved Samsung Flow with Microsoft on the Galaxy Book. Samsung Flow allows customers to sync their Galaxy smartphone with the Galaxy Book for convenient login and Wi-Fi connection through the smartphone's mobile hotspot when a data connection is not available, and the Samsung Flow app will display notifications from your smartphone.
Samsung has not yet given details of pricing or availability.