Logitech G Pro Mechanical Gaming Keyboard now available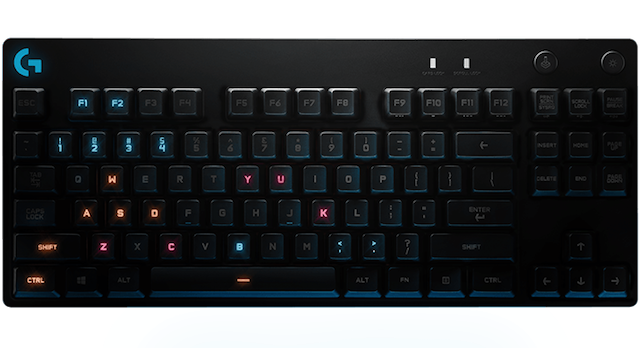 PC gaming is a huge business nowadays, with consumers not only spending a lot of money on games and hardware, but dedicating much time to the pastime too. Heck, people don't just play video games themselves, they also watch other people play them. Amazon's Twitch platform is full of people streaming themselves playing games, and even more people watching them.
As the gaming scene grows, the hardware offerings seem to get better and better. After all, the bigger the market, the bigger the incentive to cater to it. Logitech has long supported the PC gaming community, especially with its iconic "G" series of hardware. Today, the company is bringing a new professional-level keyboard to market. Called "G Pro Mechanical Gaming Keyboard," it is designed for those that take their gaming sessions seriously and are willing to invest in quality accessories.
"Designed in collaboration with top eSports athletes, the Pro Mechanical Gaming Keyboard is a high performance, tenkeyless mechanical gaming keyboard that is purpose-built for professional competition. The keyboard features Logitech's exclusive Romer-G mechanical switches, offering 25 percent faster actuation than standard mechanical keyboards, all in a switch design that delivers quiet performance. It also features a detachable cable system, making it easy to transport with customizable RGB lighting and onboard memory," says Logitech.
The company further explains, "Logitech's exclusive Romer-G mechanical switches are purpose-built for pro-grade performance, responsiveness and durability offering precision and speed. With a short-throw actuation point of 1.5 mm, Romer-G switches register key presses up to 25 percent faster than standard mechanical switches and are designed for performance. The Pro Mechanical Gaming Keyboard features a compact tenkeyless design, making it easy to pack for tournament travel and freeing up table space for low-sensitivity mouse movement. The keyboard is reinforced with a steel back plate, adding stability and rigidity for gameplay."
Of course, since this is a gaming product in 2017, it has the prerequisite RGB lighting. Where that differs from many other offerings, however, is the level of customization. You can select which individual keys to illuminate, making it easier for a gamer to focus on the one he/she needs.
Since many pro-level gamers will travel to LAN parties, Logitech has wisely made the USB cable detachable, so you can more easily pack it away in a bag. Unfortunately, it is an older micro USB  connector and not Type-C, but in the grand scheme, that really doesn't matter here. The keyboard has a reinforced steel backplate for durability too.
Logitech promises support for Windows 7 and higher, while omitting macOS and Linux-based operating systems. Does this mean you cannot use it with your Mac or Ubuntu box? Not at all. It will function fine as a USB keyboard, but you won't have access to many of the customizations which will require a Windows app.
Logitech shares the following specifications.
PHYSICAL SPECIFICATIONS

Height: 6.02 in. (153 mm)
Width: 14.19 in (14.19 mm)
Depth: 1.35 in (34.3 mm)
Weight: (w/o cable): 2.2 lbs (980g)
Cable: 6 ft (1.8 m)

ROMER-G KEY SWITCHES

Durability: 70 million keypresses
Actuation distance: 0.06 in (1.5 mm)
Actuation force: 1.6 oz (45 g)
Total travel distance: .12 in (3.0 mm)

KEYBOARD SPECIFICATIONS

Connection Type: USB 2.0
USB Protocol: USB 2.0
Indicator Lights (LED): Yes
LCD Display: No
USB Ports (Built-in): No
Backlighting: RGB
Special Keys: Programmable FN keys
If you want to buy the Logitech G Pro Mechanical Gaming Keyboard, you can get it immediately for $130. It will eventually be found at various retailers, but for now, it can be had from the company directly here.