PhotoPageGen 5.1 takes the pain out of creating slick web photo albums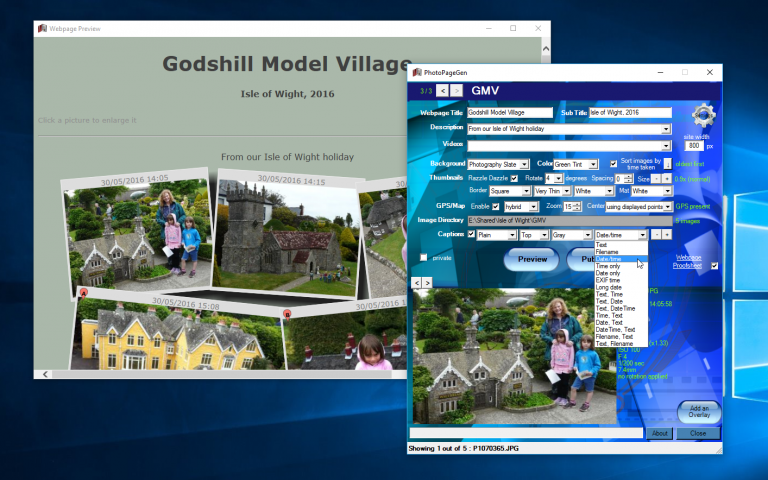 One of the simplest ways to share photos with others is through a web album. If you're looking to avoid a third-party service, or would like to distribute your album locally, then take a look at the newly updated PhotoPageGen 5.1 from Brian Donahoe.
PhotoPageGen takes a folder of photos and allows you to create an interactive web-based catalogue, complete with mapping tools, privacy functions and even YouTube video support.
The program has come of age with version 5.1 -- despite the minor revision number, it adds a host of new features. You can now store up to 10 albums at once, switching between them as required, while the Publish tool, which allows users to upload via FTP among other options now remembers the previous 10 connections used for each album.
Version 5.0 added support for embedding YouTube video via drag and drop, and the new release extends this to any image stored online via its URL.
Also added is title page generation with support for multi-level photo pages using sub-directories -- however, the program's lack of documentation doesn't make it clear how this works, and our attempts to match photo names with subdirectories didn't produce the stated effect.
Elsewhere, you can now customize each album's width in pixels, and there's a new animated snow background added to the list of available backdrops. Sort options have been improved too, with random and reverse alphabetic options added.
Create an album
Albums are created by organizing photos into a folder, then dragging that folder into the program window (up to ten albums can be worked on this way). From here thumbnails are generated and a basic album is previewed via a pop-up window. You can then add a title, subtitle and description, drag in online photos and YouTube video via URL and then customize the album.
Customizable options include background style (from a choice of 13) and color, thumbnail designs and captions. If photos contain GPS information, you can add in map features -- including clickable links within photos as well as a complete map with all points listed.
It's also possible to add overlays to both thumbnails and original photos, including watermarked text and images for copyright purposes. A 'Proofsheet' option providing full EXIF data for each photo is also available.
The list goes on, but one area PhotoPageGen currently falls short is with its documentation. There's no built-in program help, and only a brief description online. This is a shame, because it's been thoughtfully put together and is a great option for anyone looking to generate their own photo album.
Once complete, click Publish if you want to upload your album to the web via FTP, or simply locate the photo folder and distribute that instead.
PhotoPageGen 5.1 is available now as a freeware download for 32-bit and 64-bit versions of Windows. .NET Framework 4.5 is required for older versions of Windows.