Facebook Messenger borrows from Slack with Reactions and mentions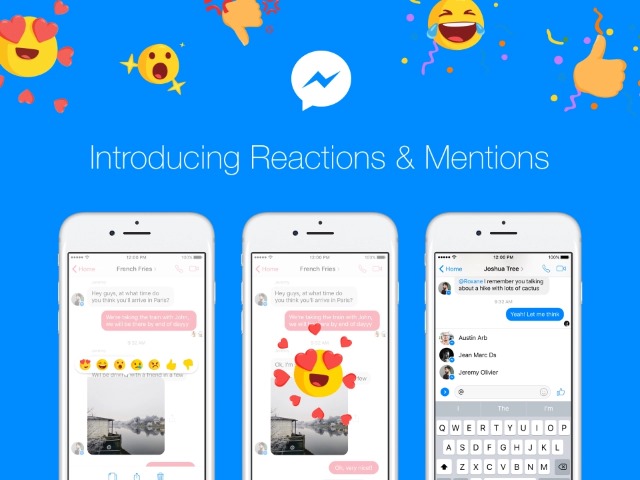 Facebook is not shy about stealing features from other messaging tools, and it's usually Snapchat that is used as inspiration. With the latest update to Facebook Messenger, it's Slack that is being borrowed from.
Today Facebook Messenger gets two new features: Reactions and mentions. These work in very much the way you would expect, and Reactions make a successful transition from the Facebook newsfeed to Messenger after having made a brief appearance to a testing group recently.
Just like on your timeline, the appearance of Reactions in Facebook Messenger means that you are now able to react to individual messages using the love, smile, wow, sad, angry, yes and no emojis -- very much as Slack users can. Just as in your timeline, you'll be able to see a quick summary of the number of people who have reacted with a particular emoji. Unlike your timeline, however, Reactions in Messenger are animated, so you will notice when they are applied.
When someone reacts to a message and you are not in Facebook Messenger, a notification will be sent to you phone. Similarly, @mentions are now possible, and these generate similar notifications. If you're wondering why this might be useful, Facebook explains:
When a person is mentioned, instead of simply seeing that someone responded in the conversation, he or she will receive a new kind of notification that lets them know they were called out specifically. That way, it's easy to jump right back in to the conversation to answer someone's question or to provide a response.
Reactions and mentions are also being added to Work Chat in Workplace, and the rollout starts today. If you don't see the options straight away, you'll just have to be patient for a little while.