IKEA launches affordable smart lighting range

Love it or hate it, Swedish home furnishing brand IKEA has a strong track record of providing affordable, well-designed home wares with unpronounceable names.
The company is now moving into smart lighting with a range of remotely controlled energy-efficient LED bulbs, lighting panels and doors. There's also an app which allows you to personalize and control your lighting from your smartphone.
IKEA is aiming to make smart lighting affordable and accessible to the masses. The new range is a plug-and-play solution, meaning that there is no need for hardwiring as customers can simply switch their traditional lightbulbs for a TRÅDFRI LED bulb to enable them to adjust their lighting remotely.
Users can choose an appropriate light for different situations, so one for early mornings, another for late evenings and a third for cooking or working at home -- all from the same lightbulb, with the system allowing them to dim, turn off, turn on, and switch from warm to cold light using a remote control or the TRÅDFRI app.
"Our research told us that the existing smart lighting technology was perceived as being too expensive and difficult to understand. With this in mind, we set out to make our smart lighting solutions easy to use and affordable," says Helen Akinsete, lighting sales leader at IKEA UK and Ireland. "With IKEA Home Smart we aim to improve everyday life at home by making it more convenient and comfortable. IKEA Home Smart is not about making gadgets. It's about adding functionality to our entire product range by integrating technology into our home furnishing offer. Through targeting everyday frustrations, we combine our life at home knowledge with technology to make life more convenient and comfortable, saving time, space and frustration. Our first offering, wireless charging, was hugely successful and smart lighting was a natural progression as our second launch. We're busy exploring new ways of implementing technology in the home and will continue to develop ranges in the years to come."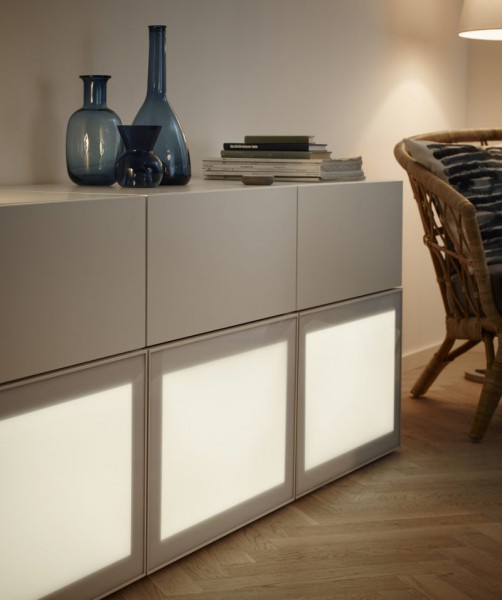 Prices start from £15 for a dimmable bulb with a remote control, wireless motion sensor kits start at £25 and illuminated door panels for use on models in IKEA's range of cabinets are priced from £70. Products will be available in UK stores and on www.ikea.co.uk from April 7th.
Image credit: IKEA