Samsung DeX lets Galaxy S8 and S8+ owners turn their smartphones into a desktop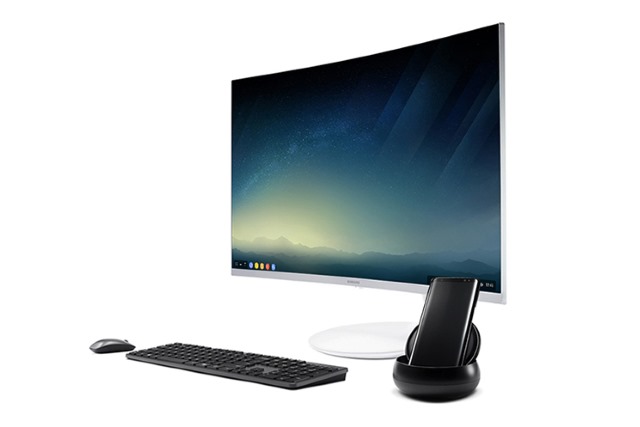 It's something that Microsoft has already tried with Continuum, and now Samsung is ready to give it a bash: transforming a smartphone into a desktop. For the South Korean company, today's events in NYC and London are primarily about the launch of the Galaxy S8 and Galaxy S8+, but this is certainly not all that's being revealed.
The company also spoke about Samsung DeX, described as a way of "extending the smartphone to a desktop environment." What this means is that, with a DeX Station, Galaxy S8 and S8+ owners can transform their smartphones into a desktop system that can be controlled with a regular keyboard and mouse, benefiting from a larger HDMI display.
SEE ALSO: Samsung unveils Galaxy S8 and Galaxy S8+ -- here's what you need to know
The DeX Station launches at the same time as the Galaxy S8 and S8+, although there's no word on pricing at the moment. The small docking station features two USB 2.0 ports, an Ethernet port, USB type-C power-in and a cooling fan. It doubles as a charging dock for a smartphone, and boasts Adaptive Fast Charging (AFC) technology to boost the battery quickly.
Samsung explains the thinking behind DeX:
Samsung DeX provides the ultimate productivity environment. Its completely redesigned Android UI is optimized for use with a keyboard and mouse and includes multiple resizable windows, contextual menus and a desktop version Web browser. Key collaborations with Microsoft and Adobe enable Samsung DeX compatibility with Microsoft Office and Adobe mobile apps, including Adobe Acrobat Reader mobile and Lightroom Mobile, allowing desktop-like functionality and a user interface previously unavailable from a smartphone. For those mobile professionals and organizations that require access to Windows OS-based applications, Samsung DeX also allows users to remotely and securely access virtual desktops through partner solutions including Citrix, VMware and Amazon Web Services.
DeX is aimed at professional and enterprise users, and eliminates the need (it is hoped) to carry a second device, as CTO of the mobile communications business at Samsung Electronics, Injong Rhee, explains:
The smartphone has become the central point for the modern mobile professional, and when giving a presentation or editing documents remotely, it means they can work effectively using just their smartphone. We developed Samsung DeX with the highly mobile worker in mind, giving them a convenient and flexible desktop experience. Our collaboration with key partners such as Adobe and Microsoft was essential in the development of Samsung DeX, as they share our vision for building excellence in mobile productivity. With Samsung DeX, enterprise users can also be assured their smartphone and data are protected by the Samsung Knox security platform built into the smartphone. Samsung DeX redefines what a smartphone can do to keep mobile professionals productive.
While we don't yet know how much a DeX Station will cost, Samsung says that it is launching globally, and in some regions it will be available to purchase as a bundle with a Galaxy S8 or S8+.