Daptly's smart display is a digital assistant for your home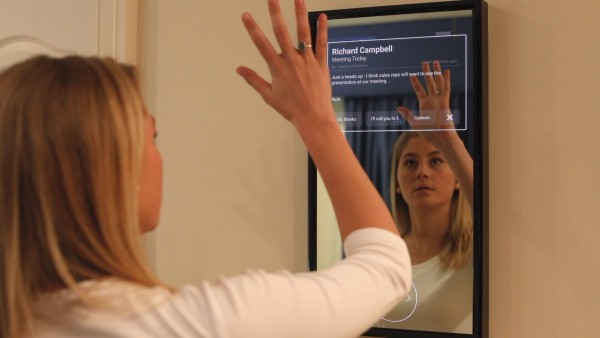 More and more of us are using voice operated personal assistants like Siri and Alexa, but a voice only interface can prove frustrating as it offers no visual cues.
Technology startup Daptly is aiming to build a better assistant with a smart, gesture and voice controlled display that manages your life and seamlessly blends technology into your home or office.
Built into a picture frame or a mirror, the Daptly Display recognizes who's in front of it and shows a personal dashboard that only displays information relevant to that person. So in the morning it can show you news and traffic updates and the kids can walk by to see their chores for the week.
It also provides a portal to control all of your smart devices in one place. It can be used to create routines that automatically control devices like your lights and thermostat depending on time of day, people at home, and the weather outside. It's integrated with IFTTT applets so you can access services you already use.
It has a gesture interface but there's also Amazon Alexa functionality built in so you can use voice control to play music, check weather, control your smart devices and more.
"We want to fundamentally change how people interact and think of computers by introducing a totally new paradigm in which computers don't sit on a table, or in your pocket, but beautifully blend into your home or office," says Max Randall, co-founder of Daptly. "Our displays enable a totally new form of interaction beyond a mouse or touch -- you interact with intuitive hand gestures or voice from across the room. By integrating with Amazon Alexa and adding a large display, we're creating a new experience that's unique, easy to use, and has really stuck with our consumer base."
The Daptly Display is scheduled for launch in December with a price tag of $799, but you can sign up for updates or reserve a unit with a $200 early bird discount on the company's website. There's a video showing how it works below.
Video Credit: Introducing Daptly from Max Randall on Vimeo.