How to download old versions of Firefox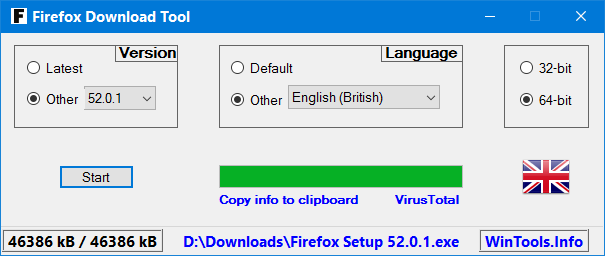 Downloading the latest version of Firefox for your PC is simple. Point your browser at the site, click "Free Download" and you'll automatically get the latest version that matches your PC.
If you regularly need to download another build, though, life gets more complicated. You have to follow an "other platform" link, maybe select a 32 or 64-bit version, or follow yet another link to work your way through a list of languages.
Even this step won't help if you need to download an old version, maybe for testing. You can do that by visiting Mozilla's FTP site, but that's awkward to use and requires you to know the code for the language you need.
Firefox Download Tool is a 119KB Windows executable which enables selecting your preferred Firefox version, language and 32 or 64-bitness from a simple dialog.
The program defaults to the latest version and default language, keeping clicks to a minimum.
Once the download is complete you're able to view SHA1, SHA256 and MD5 hashes, maybe handy if you'd like to verify the downloads are correct.
Surprisingly, the program even uses the hashes to check the download with VirusTotal. We're not sure how useful this will be, but it's near instant so there's no real penalty, and overall it's a neat extra touch.
Firefox Download Tool is a free application for Windows 7 and later.