CrankWheel: easy screen sharing for Chrome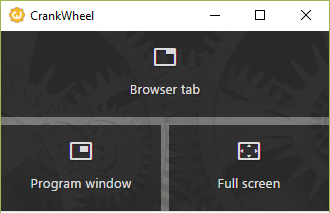 CrankWheel is an easy-to-use Chrome extension which enables speedy sharing of your Chrome tabs or entire screen, without installing any other software.
The service requires a little setup before you start. You must provide your email address, choose a password, a unique name for your "meetings", and so on.
Once that's done, clicking the CrankWheel address bar icon enables choosing what you'd like to share: your browser tab, a program window or the full screen.
The service generates a private link which you can send to anyone you want to see the screen. It can send the link by text to a specified phone number, launch your email client with the link already included, or copy the link to your clipboard so you can use it yourself (paste it into a chat message, say).
You also get a permanent "meeting room" URL at meeting.is/your_unique_name. Viewers can go straight there, although as that's a fixed and public URL there's an extra authentication step involved. Viewers see a number ("3") which they've been allocated, and are told to pass it on to you. You'll see that same number on your screen ("viewer 3"), and when you click it they'll have access to your stream.
None of this is particularly complicated, and if you use the private link system you won't have to worry about it anyway -- share the link, they can see what you're doing (not hear -- there's no audio support), and either of you can close the connection whenever you like.
CrankWheel gives you 30 days of regular use, and after that has some limitations. We couldn't see exactly what they were, unfortunately, but if you need this kind of thing for business usage, even the commercial editions seem reasonably priced from $9 a month.
CrankWheel is available for Google Chrome.