New platform uses machine learning to find the next big thing in entertainment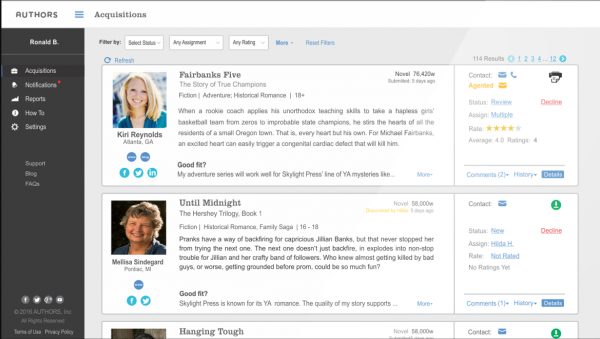 Anyone involved in writing books or TV and film scripts knows that whilst the entertainment and publishing sectors are constantly on the look out for the next blockbuster, nobody is quite sure what one actually looks like.
A new AI platform called AUTHORS is looking to use machine learning technology to recognize critical insights in original, creative work, to identify its mass audience appeal.
The AUTHORS platform analyzes the content, predicts success, and then connects the creator with the appropriate publishers or agents. Though still in its early stages, the platform currently has about 40 publishers and agents who use it to accept submissions, including Lowenstein Associates, Old Castle Books in the UK, independent publishers like Amberjack and Morgan James, and new media like Bound.io. They also have a number of editors at imprints from the big five publishers, and are about to close a deal with a major publishing group.
"Writers nowadays have to be so adaptive to technology. It influences everything from how they share their creativity to whether they are discovered and able to achieve the reach they want," says Monica Landers, AUTHORS CEO and co-founder. "Now that publishers have the ability to use technology to analyze books and scripts, writers are curious to know what a machine sees in their work."
TV producers, screenwriters, poets, and novelists can make a profile on AUTHORS platform. This includes the uploaded manuscript, and key details about the project (classification, genre, format, target audience, word count, and so on). They have the option of running an AI editorial analysis before uploading their manuscript. This will produce a full-data sweep of their submission, including strengths and weaknesses, potential marketability, and where their manuscript stands compared to existing best-sellers based on performance scores developed through the platform's algorithms.
Publishers and agents create profiles too, outlining the type of projects they are looking for next based on the same key factors (genre, format, audience, etc). After both sides complete their profiles, the AUTHORS platform and algorithms match the two to ensure success and speed up the publishing process.
You can find out more and sign up to try it for free on the company's website.