Dell flips its lid to create the XPS 13 2-in-1 [Review]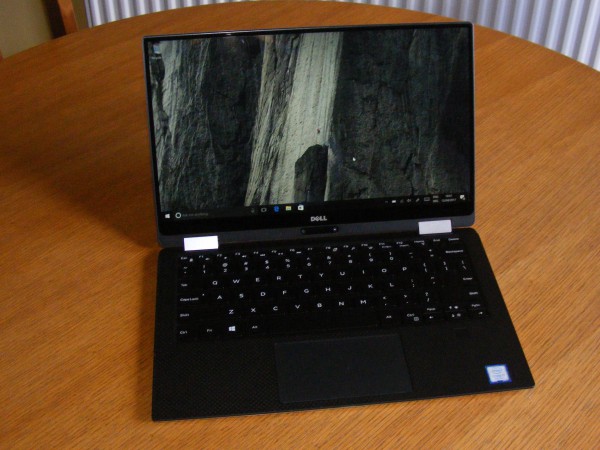 News of Dell's upcoming convertible version of the XPS 13 leaked back in January, now it's here and we've got our hands on one.
Dell has essentially taken its XPS 13 laptop and turned it into a convertible whilst maintaining most of the conventional system's features. First impressions are that it feels solidly made with a machined aluminum chassis, carbon fiber composite palm rest and a gorilla glass screen. It has a smart silver/gray finish but what strikes you most on first acquaintance is the compact size.
There are two screen options: a Quad HD UltraSharp and a standard 1080p. Both use Dell's InfinityEdge display technology with narrow borders to maximize usable screen size, so you effectively get a 13-inch laptop in an 11-inch package. The 1080p, as used on our review unit, offers a sharp, clear image with wide viewing angles too.
It's roughly comparable in size to a Surface Pro 4, although around a pound heavier, but the Dell is a convertible system rather than a tablet with a keyboard. The Dell's keyboard is not removable, but by some clever origami you can use it in laptop mode, as a tabletop stand or tent, or flip the keyboard right back to use it as a tablet. The keys have a raised surround to protect them when in stand or tablet mode. The hinges are rather stiff, which is obviously needed for it to work well as a stand, but can make it tricky to prise open.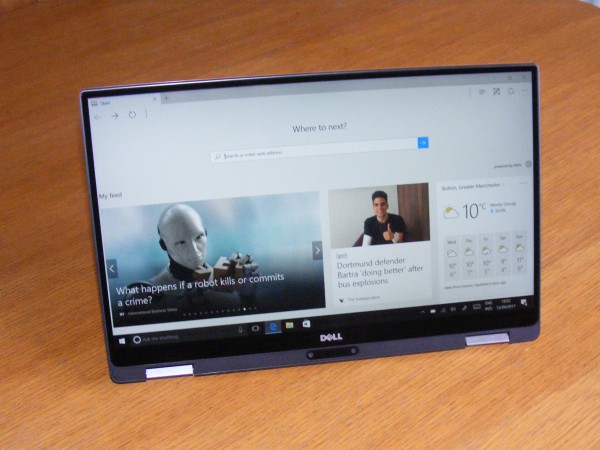 The XPS 13 uses a Core i5 or Core i7 processor, these are Y-series chips which prioritize eking out the power -- they're fanless and silent in operation -- over maximizing performance. Our review unit came with the Core i7 processor, 8GB of RAM and a 256GB SSD. This is not a machine you'd buy for running the latest games, but its performance is perfectly fine for day-to-day stuff like working on documents, editing photos and streaming video. That fanless design does mean the bottom of the machine gets pretty warm in operation though, especially if you're working it hard.
It has a USB Type-C port, plus a multi-purpose Thunderbolt port which is also used for charging. You can get an adaptor to use this for USB A or Ethernet connection. The charger itself is a compact design that allows you to wind the cable around it to keep it tidy. A row of tiny LEDs on the edge of the chassis indicate the level of battery charge when you press a button, but they're hard to see in daylight.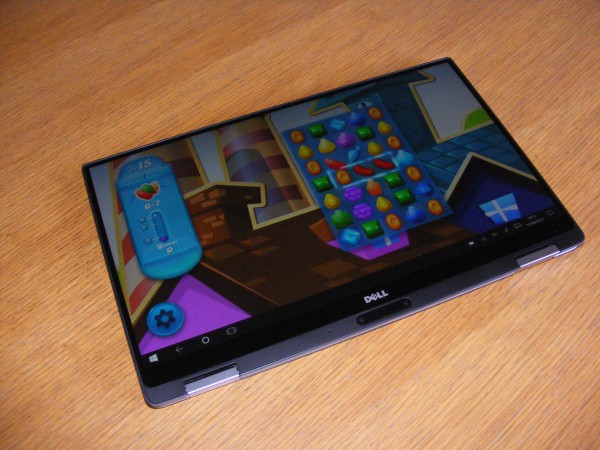 You can expand the storage via the microSD card slot. There's a built-in fingerprint reader, compatible with Microsoft Hello, for added security. The XPS 13 also has a 720p webcam and dual microphones which make it good for video calling. The keyboard is backlit which is a nice touch, and the light turns itself off after a few seconds of inactivity to save battery life. Pen support is included too but you have to buy the pen as an extra.
Windows 10 Home comes pre-installed, you also get McAfee, Dropbox and Dell's SupportAssist software but otherwise it's refreshingly free of bloat.
There are some compromises in turning the XPS 13 into a convertible. In particular it comes with a smaller battery than the standard version, though it will still get through a full day's average use on a single charge. The speakers aren't great either, delivering a rather underwhelming sound. Oddly it also doesn't automatically flip the screen image over when you put it in tent mode which is a bit frustrating.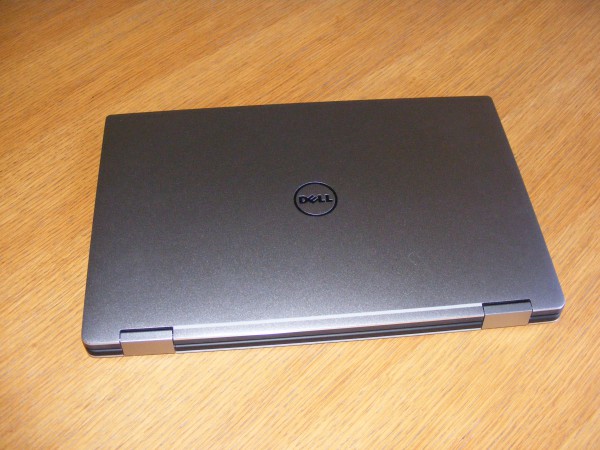 It's not cheap either. Prices start from $999.99 (£1,348 -- including delivery -- in the UK) for a Core i5 with 4GB of RAM, HD display and a 128GB SSD. A full-house Core i7 with 8GB of memory, QHD and a 512GB SSD is $1,549.99 (£1,669 in the UK).
The standard XPS laptop is already an impressive package and Dell has managed to add 2-in-1 functionality without sacrificing any of its attractions. There are some minor annoyances but really the only thing that lets it down is the high price, still if you want a premium product...
Full details are available on the Dell website.