Google brings YouTube Kids app to LG, Samsung, and Sony smart TVs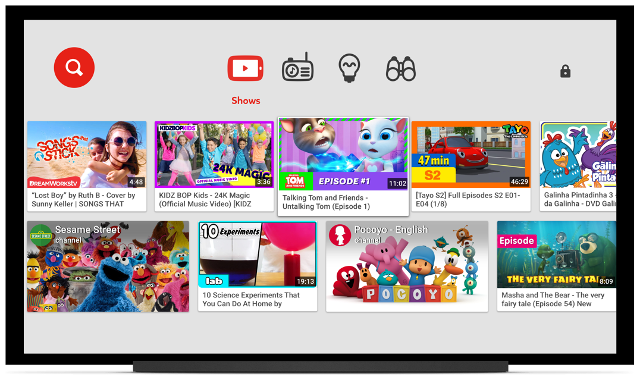 While YouTube can be a great platform for viewing quality family-friendly content, there are a lot of offensive videos on there too. No, I am not just talking about PewDiePie, although some of his content is arguably questionable. Actually, I am talking about videos from other creators that show blatant racism, sexism, and actual pornography -- it is shocking to see some of the content that gets through.
Luckily, Google developed the YouTube Kids app for mobile devices, which tries to block offensive content. This app helps parents to be more confident that their children will only see family-friendly videos. Today, the search giant brings the app to LG, Samsung, and Sony smart TVs.
"We've heard from families that they love watching videos on all their devices so bringing the entertaining and enriching content of YouTube Kids to the biggest personal screen (your TV!) seemed like the perfect fit. The YouTube Kids app is the first Google product built from the ground up with kids in mind. The app makes it easier for kids to find videos on topics they want to explore. Whether it's searching for science experiments, watching a favorite cartoon, or simply watching your favorite creator's new videos, there is something for everyone!" says AJ Crane, Product Manager, YouTube Kids.
ALSO READ: Dude, where's my car? Oh, there it is -- thanks, Google Maps!
Crane further says, "The YouTube Kids app will be available on the following television sets: all 2015 - 2017 LG webOS TVs via the LG content store, all 2013 - 2017 Samsung Smart TVs and Blu-Ray Players that have access to the Samsung App Store, and after a firmware update on 2016-2017 Sony TVs (with the exception of Android TV, which will be available soon). Happy viewing from our family to yours!"
What makes this really cool is that it isn't only planned for future televisions, but existing models too. So often in the technology community, we see new features being announced and current device owners being left in the cold. Google deserves kudos for supporting some TVs going all the way back to 2013!
Do you have a compatible TV? If so, will you use this app to aid in your parenting? Tell me in the comments below.