Logitech launches Universal Folio keyboard case for iPad, Android, and Windows 10 tablets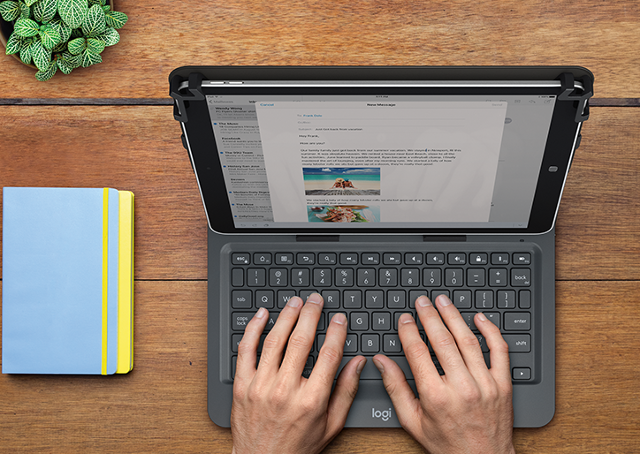 I recently bought the all-new iPad 2017 and love it very much. The problem? There aren't many cases for it. While some first-gen iPad Air cases may work with it, that is not a guarantee. Sure, there are some universal cases that leverage elastic straps to accommodate many models, but those are often a poor experience.
Today, Logitech announces an all-new universal keyboard case that actually looks good. Rather than use cheap elastic, the company has come up with some brilliant 4-point adjustable grips. This looks to be a very elegant product that solves a common problem. Of course, it will not work with all tablets, just some models that range from 8.9 to 10 inches. Best of all? The clever case is compatible with iOS, Android, and Windows 10.
"Ever wish you didn't have to buy a new case, when you get a new tablet? Ever want to type on different tablets without needing separate keyboards for each? Well, today's the day your wishes come true -- We're excited to announce the Logitech Universal Folio. This new keyboard case works with all your favorite 9-10-inch tablets, bringing laptop-like typing to wherever you use your tablet, whether on a desk at your office or in your lap at 30,000 feet in the air," says Logitech.

The famed company also shares, "The Logitech Universal Folio's 4-point grip securely holds your tablet in place and locks it at the perfect angle for typing. The large, well-spaced keys are in the same place as on your laptop, so there's no learning curve and you can type with comfort. The keyboard also includes a set of dedicated function and shortcut keys for iOS, Android or Windows, giving you the power to control your tablet without leaving the keyboard. The sturdy plastic shell protects your tablet from everyday wear and tear and the occasional coffee spill. The case has a two year battery life with two replaceable coin battery and features a smart power management system, that helps minimize power consumption."
If you are worried about a sub-par typing experience, don't. Logitech has been making keyboard cases for a while, and has really refined it overall. The Universal Folio keys have 2mm travel for decent depth -- the movement isn't too shallow like on some keyboard folios from some other manufacturers. Stylus/pencil users should appreciate the built-in holding loop.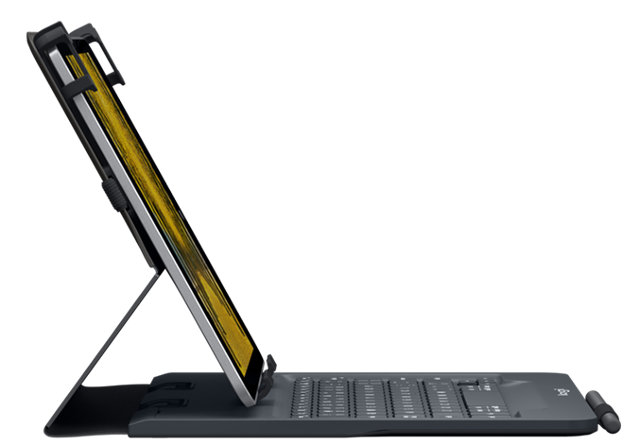 There are some potential concerns for consumers, however. For one, the battery is not rechargeable. With that said, the coin-style battery is replaceable and can last up to 2 years. I think I prefer a long-lasting replaceable battery to a rechargeable sealed variant -- but this is subjective.
The other issue is a similar one for universal cases -- lack of a rear camera hole. Since the camera location can vary from tablet to tablet, this is a tricky thing for which to solve. Logitech chose to omit a hole entirely, and I think that is the wisest choice here. The tablet can be easily removed from the case for taking pictures, so that shouldn't really be a big deal for many consumers.
Logitech lists guaranteed compatibility below, but keep in mind, just because a tablet isn't on the list, doesn't mean it won't fit. It isn't feasible for a company to have access to every tablet on the market for testing, so you may need to buy and try. For example, my iPad 2017 is not listed, but I am fairly confident that it will fit.
iPad Air 2
iPad Air
iPad 2
iPad 3
iPad 4
Samsung Galaxy Tab A-9.7 in
Samsung Galaxy Tab S-10.5 in
Samsung Galaxy Tab S2-9.7 in
Samsung Galaxy Tab 4-10.1in
Samsung Galaxy Tab 10.1 in
Samsung Galaxy Note 10.1 in (2013)
Samsung Galaxy Tab 2-10.1 in
Samsung Galaxy Tab 3-10.1 in
Samsung Galaxy Tab S3
Amazon Kindle Fire HDX 8.9 in
Amazon Kindle Fire HD 8.9 in
Pricing is rather surprising, in that it is lower than I expected. This could realistically be sold for $99.99, but Logitech is only asking $59.99 -- totally reasonable. You may even see it for less at some retailers. Want to buy it? Good news -- it is available starting today.