'Start' is a do-everything new tab page for Chrome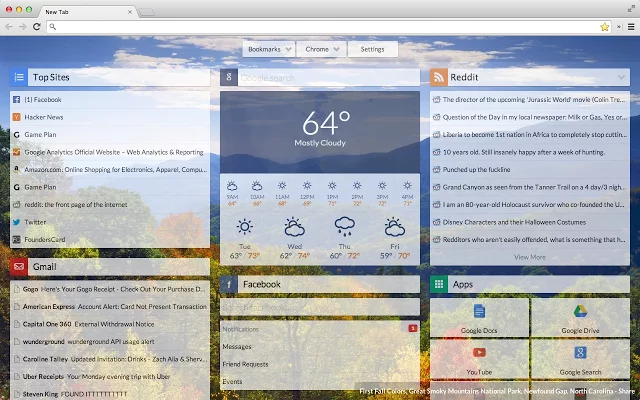 If you're bored with Chrome's standard "new tab" page, there are hundreds of free extensions to make it better. Whether you're after gorgeous photos, better searching, more productivity tools, there's something, somewhere that can help.
If you don't have time to look, that doesn't have to be a problem either -- just install something like Start -- A Better New Tab, which crams in just about every feature you could possibly want.
Our first new tab opened with a gorgeous photo background, for instance. A weather forecast. Lists of the latest Google News stories and popular YouTube videos. There are panels to alert you to Facebook notifications and messages, access Gmail or Google Calendar, launch Chrome apps, open your favorite sites or just run a Google search.
There are some surprising extras, like a little To-Do app with drag-and-drop reordering, and a Note pane which syncs with your logged-in Google account.
Oh, and there's a clock.
This can look cluttered, to the point where your gorgeous wallpaper image will disappear under all the panels and panes. Click Link > Settings, though, and you'll see a Features sections with icons representing the various elements of the page. These can be dragged and dropped to reorder them, clicked to toggle features on and off, or you can try a different layout in a couple of clicks.
Be sure to explore the individual widgets, too. The "Google News" list isn't really a Google-specific panel, at all -- it's an RSS reader which just happens to have Google News selected by default. There are a selection of other built-in feeds to choose from -- AP, BBC, CNN, more -- and you can add new feeds of your own.
Start -- A Better New Tab is a free extension for Google Chrome.