Windows 10 Creators Update has a secret UWP version of File Explorer -- here's how to find it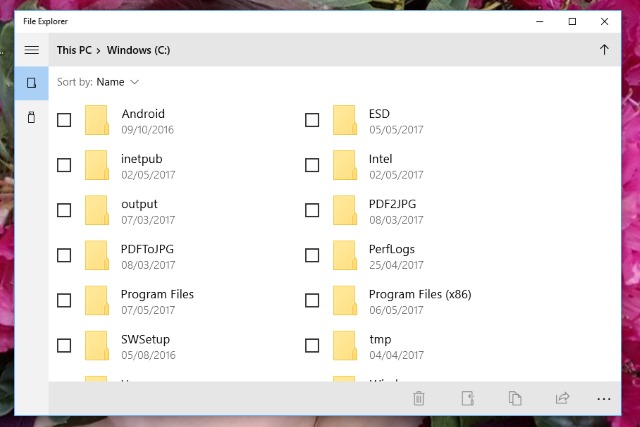 Microsoft has made much of its UWP (Universal Windows Platform) so it should come as little surprise that there's a UWP version of File Explorer. What is a little surprising, however, is that the app is hidden and can only be unlocked using a specially-crafted shortcut.
You need to be running Windows 10 Creators Update and you can try out the app which is somewhat reminiscent of the Windows 10 Mobile version of File Explorer. It's not clear how close to the final version of the app this is, but it's interesting to try out, and certainly something to keep an eye on.
File Explorer in UWP format (first reported by OnMSFT) is a little more basic than the regular version of the tool. You're limited, for example, to browsing the content of drives only, as there is no way to navigate to network devices -- unless, you've mapped a network drive. It does not support drag and drop, and the process of selecting, copying and moving files is a little convoluted.
But if you want to see what Microsoft may have planned for the future, here's what you need to do to access the app:
Right click on an empty section of the desktop and select New followed by Shortcut.
In the text field, paste the text from below:
explorer shell:AppsFolder\c5e2524a-ea46-4f67-841f-6a9465d9d515_cw5n1h2txyewy!App
Click Next.
Type a suitable name for the shortcut and click Finish.
Keep in mind that this is not a completely finished version of the app, so stability might be an issue.