Take control of Windows 10's built-in network usage monitor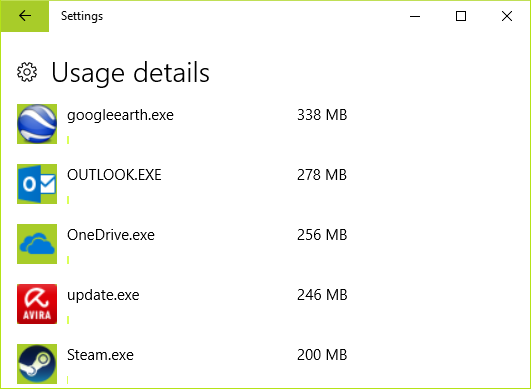 Monitoring which apps use the most network bandwidth can help you spot resource hogs, malware and more. If you're using Windows 10, you don't have to install any complicated network software to make this happen. The OS tracks all this information by default, and all you have to do is view it.
To check it out, launch the Settings app, click "Network & Internet", select "Data usage" in the sidebar, then click "View usage details."
The next window gives you a very simple list of applications sorted by bandwidth used over the last 30 days. If you're multiple connection types -- Wi-Fi and Ethernet, say -- you can view their usage separately.
What you can't do is set the counting period. It's always "the last 30 days", a hassle if you want to compare usage week-by-week, or maybe track what's happening in the current month.
Freeware developer Sordum has released a simple solution in Reset Data Usage, a tiny portable tool which clears the usage stats on demand.
The program couldn't be easier to use. Launch it, click "Reset Data Usage" on the first of every month (or whenever) and the app counts are set to zero.
Alternatively, running the program from the command line with an /R switch -- resetdu.exe /R -- enables resetting Windows' stats from the command line, or your own scripts. Set up a Windows scheduled task and you could reset the count every day, week, month, or whatever you like.
There's even a "Data Usage" button to launch the report window, perhaps easier than clicking your way through Settings to find it manually.
This is the kind of feature which should really be available in the OS already. Microsoft's current approach seems more about removing configuration options than adding new ones, unfortunately, but at least Sordum's latest is on hand to fill the functionality gap. Check it out.
Reset Data Usage is a free tool for Windows 10.