AOC unveils 16-inch 1080p USB monitor for portable productivity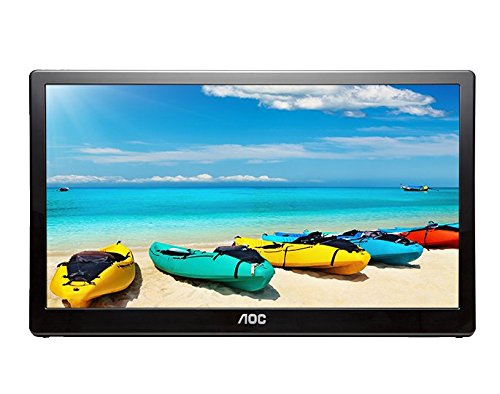 A laptop can make it easier to get work done on the go, but there are limitations compared to a desktop. One of the biggest pain points is that you are forced to use a single display when away from home. A dual-monitor setup can be very beneficial for productivity, and being limited to one can be frustrating.
Luckily, there are portable external monitors designed for laptops. Yes, you can use a dual display system at, say, a Starbucks for added productivity. Today, AOC announces its latest such offering for both macOS and Windows. The 16-inch (15.6-inch viewable) display (model number I1659FWUX) uses USB 3.0 for both video and power, meaning you can easily pack it into your backpack or other laptop bag when needed -- there is no additional bulky power cable to remember.
"The USB monitor is ultra slim and lightweight for maximum portability. Its small footprint makes it perfect for displaying business presentations or adding a second monitor to your laptop or desktop for increased productivity. The widescreen monitor receives both power and signal via a single USB 3.0 cable for plug-and-play connection. It does not require a dedicated power cord or VGA cable, and comes with a foldable flexi-stand for maximum flexibility," says AOC.
The company further says, "USB 3.0 technology achieves high transfer rates and delivers high quality images. Designed with a piano-black glossy finish, this USB monitor features a 15.6-inch screen, 700:1 contrast ratio, 25ms response time, and a beautiful 1920x1080 Full HD resolution at 60Hz. The IPS panel renders vivid colors with wide viewing angles."
This slideshow requires JavaScript.
AOC shares the following specifications.
Size: 
15.6-inch
Model: 
I1659FWUX
Panel Type: 
IPS
Resolution: 
1920 x 1080
View Angle: 
IPS 160°/160°(CR>10)
Brightness: 
220 cd/m2
Response time: 
25 ms (tr+tf)
Features: 
Auto pivot
Ultra slim
Light Weight
Foldable flexi-stand
Low power consumption
AOC says the monitor will cost $149.99 and won't go on sale until May 12, but I found it to be available on Amazon now here. There are only three in stock at the moment, however. Keep in mind, while it is designed for portability with a laptop, it will absolutely work with a desktop too.