Element Electronics unveils Amazon Fire TV Edition 4K UHD smart televisions with Alexa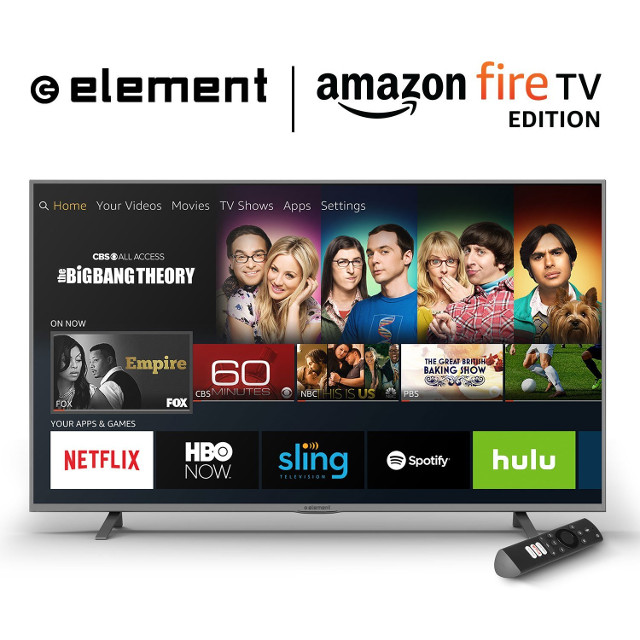 While smart televisions are very common nowadays, not all are created equally. Some of them can have laggy performance and poor user interfaces. Amazon aimed to change that with its "Fire TV Edition," which integrates its quality video experience into the television itself -- no need to add a dongle or box. This is clearly designed to compete with Roku's similar integrated platform.
Today, Element Electronics announces the first ever models of televisions with the aforementioned Amazon Fire TV Edition experience. What makes these sets particularly special, however, is that they also offer 4K UHD resolution. You can even access the Alexa assistant using the included voice remote.
"The new Element Fire TV Edition smart TVs deliver access to the best streaming, live over-the-air TV broadcasts (HD antenna required) and subscription content through one unified experience, eliminating the need for multiple devices and remotes. With Amazon's Fire TV experience built in, users can access more than 15,000 channels, apps and Alexa skills – including over 300,000 TV episodes and movies from Netflix, Amazon Video, HBO NOW, Showtime, Hulu, Sling TV and more. With the included Voice Remote with Alexa, Amazon Fire TV Edition lets users use their voice to control their viewing experience to easily search for movies, TV episodes, and local programming, pause or rewind live TV, switch TV inputs, launch apps and control smart home devices," says Element Electronics.
Sung Choi, VP of marketing, explains, "This new line of smart TVs featuring Amazon's Fire TV experience extend the voice-control revolution starting in the home. With the Voice Remote with Alexa, customers can not only change channels, launch apps, and search or switch inputs with simple voice commands, but they can also ask Alexa to read and display sports scores, dim the living room lights, see Yelp restaurant reviews, and even order a Domino's pizza. This TV represents the ultimate connected TV experience, coupled with an innovative voice service that will forever change the way we interact with home devices."
This slideshow requires JavaScript.
Element Electronics shares the following specifications.
| | |
| --- | --- |
| Screen Sizes: | 43-, 50-, 55-, 65-inch |
| Resolution: | 3840 x 2160 (4K UHD) |
| Refresh Rate: | 60Hz (Native) / 120Hz (Effective) |
| Processor: | Quad-core CPU/GPU Chipset |
| Memory: | 3GB memory, 16GB internal storage, expandable with USB/SD card |
| Streaming Resolution: | Streaming resolution at 4K Ultra HD (2160p), 1080p, 720p up to 60fps |
| Other Features: | Built-in Wi-Fi and Bluetooth (4.1); 4 HDMI, Component/Composite; Optical SPDIF Out |
| Warranty: | One year limited warranty |
If you want to buy one of these televisions, you must choose between four screen sizes -- 43-inch ($449), 50-inch ($549), 55-inch ($649), and 65-inch ($849). While they won't ship until June 14, you can pre-order immediately here. For a limited time, Amazon will include a free over-the-air antenna with your order too.
UPDATE: The TVs will also be sold in June under the "Westinghouse" brand. They will be the same exact televisions functionally, just with an additional brand stamp on them. This is not as weird as you might think, as rebranding televisions is fairly common. Not to mention, the Element brand is not likely to resonate with customers, while Westinghouse is more recognizable.