Nintendo stock soars from Switch sales, GameStop gets profit boost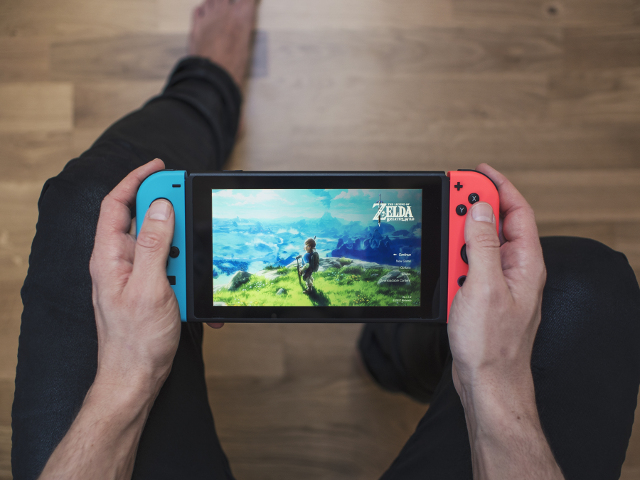 After years of disappointing sales, uninspired product launches, and even some doomsday predictions, Nintendo has reversed course -- evidenced no more forcefully than the 8-year high that its stock price reached by the end of this week.
The company closed at 33,510 yen ($300.72) per share on Japan's Nikkei exchange. The last time Nintendo was looking at numbers like that, it was busy celebrating the way it reinvented the gaming marketplace with its motion-sensing Wii console.
Over the past eight years, though, the novelty of the Wii began to wear off; its successor, the Wii U, was miserably behind its competitors in terms of technical capabilities. As a result, developer and publisher interest waned, while the explosion of gaming on other platforms like smartphones and tablets put the entire existence of dedicated Nintendo consoles into question.
All of that angst and uncertainty appears to have been entirely spun around, though, thanks to exceptionally strong sales of the Nintendo Switch console, which launched globally on March 3.
The system was released with a fairly meager lineup of available titles, no functionality to play or download old games, nor was there access to streaming services like Netflix and Hulu. Its headline game, The Legend of Zelda: Breath of the Wild, was not even an exclusive title; it was released for the Wii U on the same day.
ALSO READ: Nintendo Switch will be a failure
Nevertheless, in its first month, more than 2.7 million Switch units were shipped, exceeding Nintendo's own bullish forecast of 2 million and sharply eclipsing the Wii U's first month sales of less than one million.
With no hint of a new generation console for either PlayStation or Xbox on the horizon (the upcoming tweaked Xbox One known as Project Scorpio notwithstanding), the demand and curiosity for something new has been at a fever pitch, and Nintendo captured that demand perfectly.
However, the real hero of the story is the Zelda launch title, which was widely praised as one of the best video games of all time. It stands as the highest-ranked game on Metacritic.com since 2014, and received perfect scores from numerous outlets including the venerable Famitsu magazine in Japan. Even though it was also released for the Wii U, the Switch's more powerful technical specs allow it to deliver a far superior experience.
It was a somewhat refreshing flashback to older generations of game consoles, which ran under the business model that it was absolutely necessary for the game you played on day one to ultimately be one of the defining titles for the entire life of the console. For whatever reason, that concept began fading away over the past decade as launch titles devolved into whatever could be produced quickly enough to meet the hardware launch deadline -- games that you would discard once the "real games" were released.
Reverting to that old strategy has paid off in spectacular fashion for Nintendo, as the Switch remains difficult to find on store shelves to this day.
Nintendo isn't the only company popping the champagne, though. Dominant video game retail chain GameStop is happily basking in the success and popularity of the Switch, with its latest quarterly numbers revealing a 3.8 percent year-over-year increase in sales.
ALSO READ: Nintendo Switch Joy-Con controllers support Windows, Mac and Android; Pro models hide a secret
Nintendo's success is beneficial to GameStop in ways that are not replicated by other companies. Downloadable and streaming games on the PS4 and Xbox One are becoming increasingly common. Even though every game on the Switch is also available in a downloadable format, the platform is thriving on sales of physical disc-based games, due to significantly smaller hard drive space and much less aggressive marketing efforts to push customers in the direction of digital downloads.
Like Nintendo, GameStop's fate has been questioned from time to time, as the need for a physical retail establishment to buy content that is now entirely available digitally seems precarious at best. Thanks to the Switch, though, along with new peripheral and hardware sales, like the PS4's PlayStation VR headset, those questions about its future will start to fade away. For now.
Photo credit: chrisjohnsson / Shutterstock