Toshiba announces XG5 PCIe NVMe M.2 SSD with 3D 64-Layer BiCS flash memory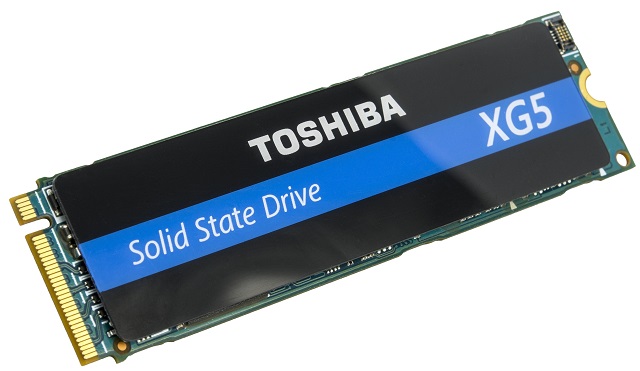 NVMe solid state drives are finally becoming more mainstream, delivering speeds that consumers never imagined. When SATA-based SSDs hit the scene, they too were mind-boggling though -- when compared to mechanical hard drives at least. Nowadays, however, a new SATA solid state drive is rather boring, as they are all largely the same speed.
Today, Toshiba announces an impressive new NVMe SSD with 64-Layer 3D Flash. The XG5, as it is called, uses the 2280 form factor and M.2 connection. Since heat can impact performance, the company has wisely chosen to include a heatsink.
"As the third generation of the popular Toshiba XG Series, XG5 SSDs feature the latest 3-bit-per-cell TLC (triple-level cell) BiCS FLASH and utilize PCI EXPRESS (PCIe) Gen3 x 4 lanes and NVMe Revision 1.2.1 to deliver extremely high performance up to 3000 MB/s of sequential read and 2100 MB/s of sequential write. Compared to 6Gbit/s SATA storage, the XG5 Series is up to 5.4 times faster on sequential read performance and up to 3.8 times faster on sequential write performance with a maximum interface bandwidth of 32 GT/s. Additionally, XG5's feature-set also features an SLC cache for excellent performance to accelerate burst type workloads, such as those experienced routinely on Windows-based PCs, as well as improved standby power consumption reduced by over 50 percent to less than 3mW, making these SSDs an excellent solution for high performance mobile computing," says Toshiba.
Jeremy Werner, VP SSD marketing and product planning, Toshiba explains, "We are proud to introduce the first ever NVMe SSD equipped with 64-layer BiCS FLASH technology, and we expect broad adoption from our major PC OEM customer base. The XG5 Series demonstrates Toshiba's ability to deliver a cutting-edge, high performance and low power solution for client PC applications that can also be leveraged as a server or boot drive storage solution."
While we do not know pricing or when consumer availability will begin, Toshiba is beginning to ship samples to interested PC manufacturers starting today. In other words, there is a good chance that your future laptop or desktop could have an XG5 inside. What we do know for sure, however, is capacity. The SSD will be available in three common options -- 256GB, 512GB, and 1024GB.