Facebook uses Pride Month to pat itself on the back over LGBTQ support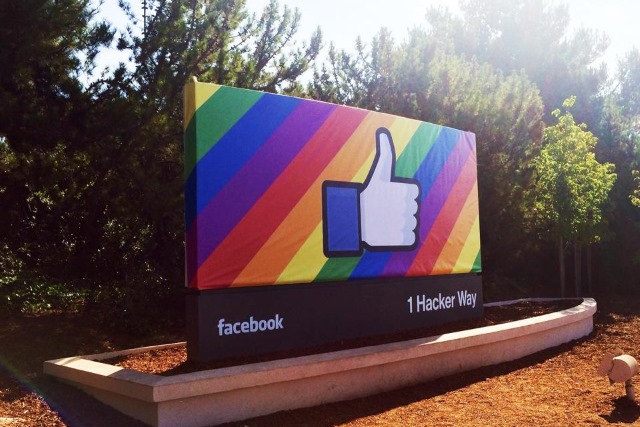 Social media platforms are, by their very nature, keen to be welcoming to as broad a spectrum of people as possible. Twitter, YouTube, and other services of their ilk like to be seen to be as inclusive as can be imagined and Facebook is no different.
This month is Pride Month, and Facebook is not only joining in the celebrations, but also using it to indulge in a little self-celebration and self-congratulation. The social network is rolling out a rainbow frame, a Pride reaction and Pride-themed masks for photos, Pride stickers in Messenger and more, but the company is also falling over itself to prove how diverse not only its userbase is, but also its workforce.
Of course, this is to be welcomed. But one can't help but feel there's something of an air of trying too hard. Like tackling extremism online, like fighting government surveillance, like publishing transparency reports, Facebook is not happy to simply offer its support and backing, but is desperate to be seen to be doing so -- and to blow its own trumpet if necessary.
In post wishing everyone a happy Pride Month, Alex Schultz, VP & Executive Sponsor of [email protected] says:
Facebook has long been a supporter of LGBTQ rights, through our products, policies and benefits to our employees. Not only will we be a part of Pride activities in more than 20 cities around the world, including in San Francisco, where we first marched in 2011, but we will also celebrate with our employees by hosting events and discussions, as well as by draping the Facebook monument outside the Menlo Park headquarters in the rainbow flag, as the company has done each year since 2012.

Our commitment and support of the LGBTQ community has been unwavering. From our support of marriage equality and bullying prevention, to the many product experiences that we've brought to life, we are proud of our attention to the LGBTQ experience on Facebook, often thanks to the many LGBTQ people and allies who work here.

Last year, for the first time ever, we began publicly sharing self-reported data around our LGBTQ community at Facebook. In a recent, voluntary survey of our employees in the US about sexual orientation and gender identity, to which 67 percent responded, 7 percent self-identified as being lesbian, gay, bisexual, queer, transgender or asexual. We are proud to support the LGBTQ community, and while more work still remains, we are eager to be active partners going forward.
While this is all clearly to be applauded, one can't help but feel a little humility would be a welcome addition. It's great that you're celebrating Pride Month, Facebook -- just don't use it as a way to score yourself points. It's ugly.