Firefox 54 extends multiprocess feature to promise faster, more stable browser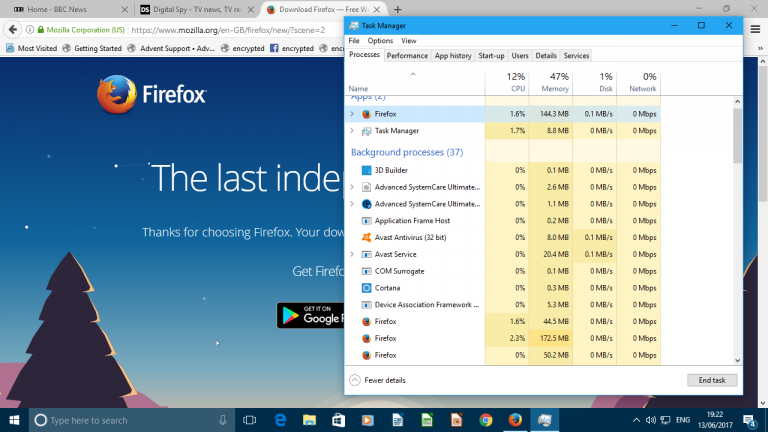 Mozilla has released Firefox 54.0 for Windows, Mac and Linux, with Firefox for Android 54.0 due imminently. Firefox 54 focuses largely on one major development: support for multi-content processes, which basically gives Firefox the ability to split itself into multiple system processes for faster, more stable browsing.
The new feature -- project Electrolysis (also referred to as "e10s") has been rolling out slowly since the release of Firefox 48, when a select band of users were given a version of Firefox that could split itself into two processes: one for its user interface, the other for content. That feature has since rolled out to virtually all users.
Firefox 54 extends this further by splitting the content process into four separate processes, with the aim of spreading the load more evenly to improve performance and add an extra layer of redundancy.
This means if one tab becomes slow or non-responsive, those tabs running in a separate process won't be affected. Firefox has resisted going down the "one process per open tab" route favored by the likes of Chrome due to memory demands -- although Firefox 54 consumes more memory by splitting content across four processes, it's still 2.4 times less than Chrome, according to Mozilla's benchmarks.
The feature is being rolled out to 80 per cent of Firefox users, with 20 per cent being held back as a "control group" for comparative purposes.
Users can check to see if multi-process support has been enabled by opening Firefox and typing about:support. If it's listed as "disabled by add-ons", visit about:addons. Check for the presence of add-ons that aren't compatible -- removing these and restarting should trigger multiprocess support.
In the case of some incompatible add-ons -- Norton Security Toolbar in Windows for example -- they can't be removed, in which case users should contact the add-on provider for more assistance.
If multi-content process is enabled, opening Task Manager in Windows should reveal multiple processes for Firefox (the UI process is listed under Apps, the content processes can be found under Background Processes). If only one additional process is shown, rather than a maximum of four, the user is in the 20 per cent control group.
Other changes in Firefox 54 include a design tweak to simplify the download button and download status panel, various security fixes, moving the mobile bookmarks folder to the main bookmarks menu for easier access and a slew of changes for developers. Chief among these is the ability to create and save custom designs in Responsive Design Mode.
Firefox 54.0 is available now as a free, open-source download for supported versions of Windows, Mac and Linux. Also due for release is Firefox for Android 54.0, which improves bookmark sync performance as well as audio and video playback within the browser.