Microsoft Stream rolls out to Office 365 Enterprise customers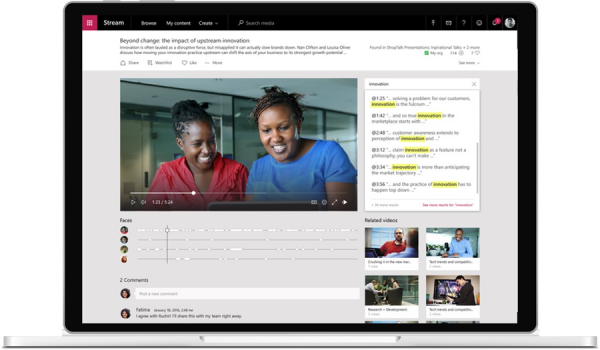 Last year Microsoft announced the preview of its Stream enterprise video service, intended to make it easy to share and discover business-relevant video content.
Today Stream becomes available as a stand alone product and is being rolled out to Office 365 Enterprise customers around the world.
At the same time it's announcing new intelligent features for the platform. These include turning transcribed audio into searchable text. Simply by typing in keywords users can jump to any point in a video where they are spoken. Face detection lets viewers see where each person in the video is shown throughout and a clickable timeline indicates every place they appear. In addition timecodes are displayed within the comments section and are linked to the text transcripts or table of contents, so it's possible to jump to a specific point in the video.
Stream also uses encryption and authenticated access to ensure customers are sharing content only with their intended audiences. It uses existing identities via Azure Active Directory and Office 365 Groups to make security management simple,
"Microsoft Stream is a single destination for video management, with built-in intelligence, deep integration across Office 365 and the IT management and security capabilities that businesses of all sizes require," says Seth Patton, general manager of Office 365 Product Marketing, writing on the Office blog. "It gives individuals a destination to contribute, search and discover all their company videos. It is also now the cross-suite video service for Office 365 in the enterprise, making it seamless for people to share videos inside Office 365 applications like SharePoint, Microsoft Teams and Yammer. Microsoft Stream is also integrated with Office 365 Groups, which means every group has a designated channel—making it even easier to manage content across teams."
Current Office 365 customers can find Stream in the Office app launcher or visit the Microsoft Stream website to sign in. For those without Office 365, standalone plans are available and you can sign up for a free trial. There's a video overview below too.