Back up drives and partitions with MiniTool ShadowMaker Beta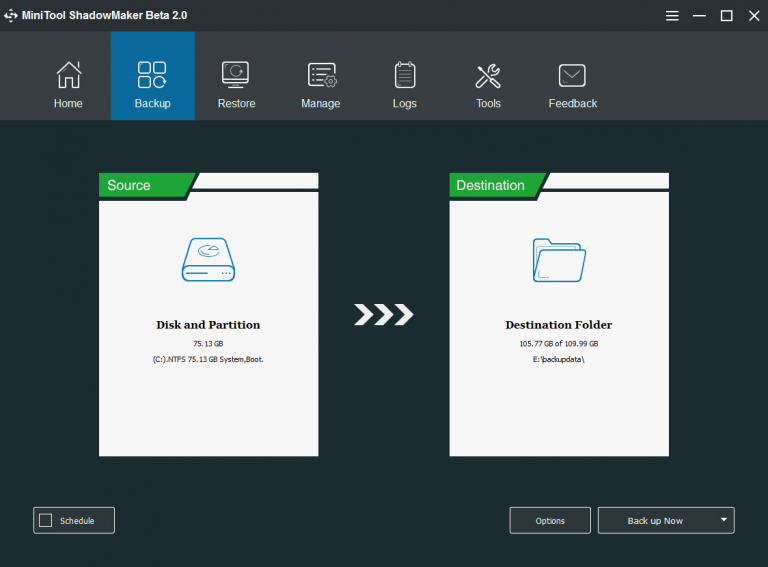 MiniTool ShadowMaker Beta is a versatile tool for creating and managing backup images of all your storage devices. The program supports full, incremental and differential backups of both local drives and other systems on your network.
Backups can be restored from within the program, via a bootable WinPE CD, DVD or USB key, or by integrating ShadowMaker's recovery environment with the Windows boot menu.
ShadowMaker is built to be as simple as possible. When we first clicked the Backup button, the program automatically chose our system drive as the source, selected a second drive with enough space to be the destination, and chose its own folder. That backup could be launched with a click.
If the defaults don't work for you, you're able to choose your preferred source and destination drives and partitions.
The program offers most of the backup options you'd expect. You can add comments to backups, set compression levels, apply password protection, split your backups into custom sizes, get email notifications of backup jobs, and schedule them to run automatically whenever you need.
Unsurprisingly for a beta, there are problems. Our most notable issue is that backups weren't properly marked as "Finished", even when they were complete. This didn't matter and we could still use them, for example mounting images as new drives in Explorer, but it's still a concern.
There's also a very notable omission in the lack of any retention rules. There doesn't seem to be any way to say "keep x backups only", "delete backups older than x days" or anything similar. We would guess this will be added before ShadowMaker leaves beta, or it'll be an option left for a premium version, and free users will have to manage backup files themselves.
Overall, MiniTool ShadowMaker Beta is a capable product, easy to use and with some surprising features (PXE support for booting across the network). There's work to be done and we wouldn't recommend using it as your sole backup tool just yet, but take a look if it sounds interesting.
MiniTool ShadowMaker Beta is available for Windows XP and later.