Nintendo Switch Online app goes live, will be useful in two days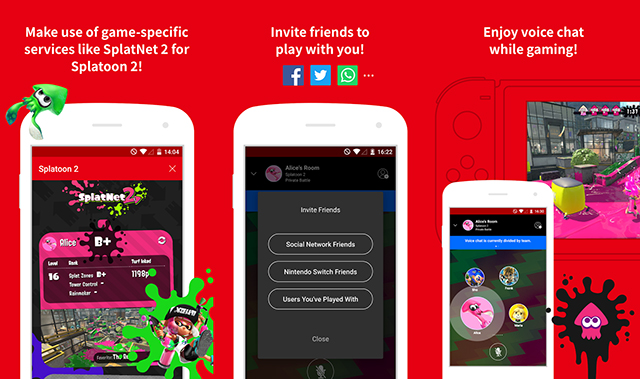 As a sign of its continued adoption of third-party platforms, Nintendo has just launched the Nintendo Switch Online app on Google Play and the Apple App Store. Players will be able to link their accounts between the Nintendo Switch console and the new app so that they can view certain historical data/statistics, as well as directly integrate with online features of compatible games.
That said, it doesn't actually do any of that now. The app launch is in preparation of the first title that will support it -- Splatoon 2, which comes out on July 21.
Splatoon was one of the very few new Nintendo franchises to have found success in the doomed-from-the-start history of the Wii U console, in large part because of its addicting online gameplay. So it's a fitting franchise to kick off the next generation of Nintendo online connectivity features.
With the Nintendo Switch Online app, players will be able to send online game invitations to their friends, an option that is aided by integration with social platforms including Facebook, Twitter, and Whatsapp. It also lets players look through their online gaming history to view things like historical results, global rankings, and other information.
This functionality is similar to the mobile offerings for Microsoft's Xbox and Sony's PlayStation platforms so Nintendo is not exactly breaking new ground. For a company that has always kept an airtight grip on its own products and experiences, though, it is a significant step in understanding and accommodating today's gaming environment.
The most significant part of the Nintendo Switch Online app, though, is that it enables voice chat between players during online gaming sessions -- a feature that is not natively enabled within the Nintendo Switch architecture. This means that the app is not just a handy second-screen device; it is a necessary tool for any player who wants to have a full-featured online gaming experience on the Switch.
Although Splatoon 2 is currently the only game that works with the app, in the future it will be a universal hub for all Nintendo Switch games that want to enable online gaming with social matchmaking and voice chat. As of now, the service is free but some time in 2018, Nintendo plans to begin charging a $20 annual fee.
The app can be found at the following links: Google Play | App Store