Panic releases Transmit 5 for the Mac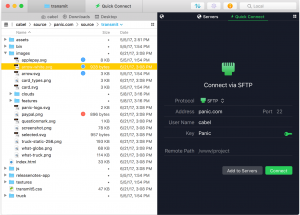 Mention 'ftp' and most people think back to a term you'd hear in the late 90s, not realizing the technology is still used behind the scenes to upload/download files to any remote server. Need to update files on your website? This will be handled by the file transfer protocol.
Transmit has been one of first choice applications for our Macs, and Panic has just released a major new upgrade, v5, which is built from the ground up to be faster and more efficient.
For us, Transmit is an essential tool. Apart from using the transfer software to get files to and from our servers, we also use it to handle our cloud services, upload files to other companies servers, download files on demand and much more.
So, what's new in v5? Pretty much everything, making it an ideal upgrade for all existing Transmit users, too.
The first major change is that there's support for 10 cloud servers including Amazon Drive, Google Drive, Dropbox OneDrive and many others. A new Panic Sync service enables you to synchronize your files across various devices, where an improved local/remote sync service gets only your new and changed files uploaded quickly.
Transmit is now much faster, thanks to improved multi-threading, plus you get a lovely new activity panel to see what is being transferred, whilst a new info panel window can give you a quick overview of your files. You can quickly batch rename multiple files, create a places bar for quick access, manage your server keys and much more. There are many more smaller changes, plus a brand new much-improved modern UI.
The Transmit 5 trial is available now and can be purchased at a special launch price of $35 (rather than $45). There are no upgrade paths from previous versions due to the number of new features in this version. Head to the Panic website for more information.