Toshiba unveils TR200 64-layer 3D TLC SATA SSD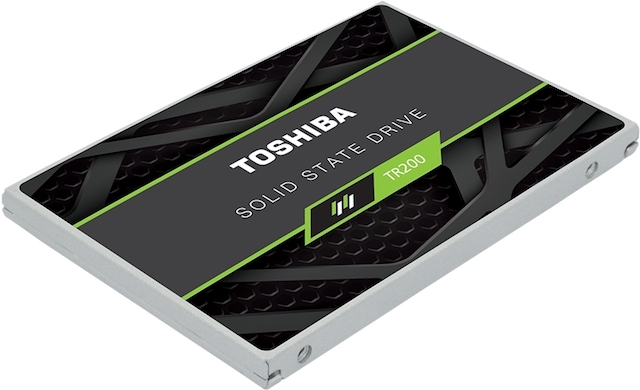 SATA solid state drives aren't particularly exciting nowadays, but they are essential for consumers looking to upgrade existing computers without breaking the bank. By purchasing a 2.5-inch SSD, a computer user can easily upgrade their laptop. Not only should the notebook get a speed boost, but it can improve battery life too. Heck, these drives are great for desktops too -- especially if they do not have M.2 NVMe slots.
Today, Toshiba announces a new SATA SSD that is aimed at upgraders. Called TR200, it is a 2.5-inch drive that features 64-Layer 3D 3-bit-per-cell TLC flash memory.
"Toshiba TR200 SSDs are an easy and affordable way to enhance notebook or desktop experiences by increasing system responsiveness and productivity over traditional hard disk drives (HDDs). With a 6Gbit/s SATA interface, the TR200 series is rated for sequential read/write speeds of up to 550MB/s and 525MB/s and random read/write performances of up to 80,000 and 87,000 input/output operations per second (IOPS). In addition to excellent SATA performance, TR200 SSDs provide low power consumption that translates into a longer battery life for on-the-go users," says Toshiba.
Alex Mei, VP consumer SSDs and storage, Toshiba explains, "We are excited to provide consumers with the new TR200 series, our first retail branded SATA 6Gbit/s drives to leverage state-of-the-art Toshiba 64-layer TLC BiCS FLASH. Seeking to provide enhanced real world performance and value to customers, the TR200 SSDs were engineered from the ground up utilizing the latest 3D flash memory technology to be a cost-effective and power-optimized storage solution for desktop and mobile upgraders, gamers, and system builders."
While we do not yet know cost, Toshiba will have to be aggressive with pricing to make a dent in this very crowded market. After all, performance between SATA solid stare drives is pretty much identical at this point. With that said, affordability coupled with the legendary "Toshiba" branding should go a long way.
What we do know for sure, however, is capacity options -- 240GB, 480GB, and 960GB. You will be able to buy them from various retailers in the fall -- Toshiba does not share an exact release date yet.
Are you still using an aging mechanical hard disk drive? Will you make the switch to SSD soon? Please tell me in the comments below.