AUKEY EP-B40 Latitude Wireless Earbuds: earphones for people who hate earphones [Review]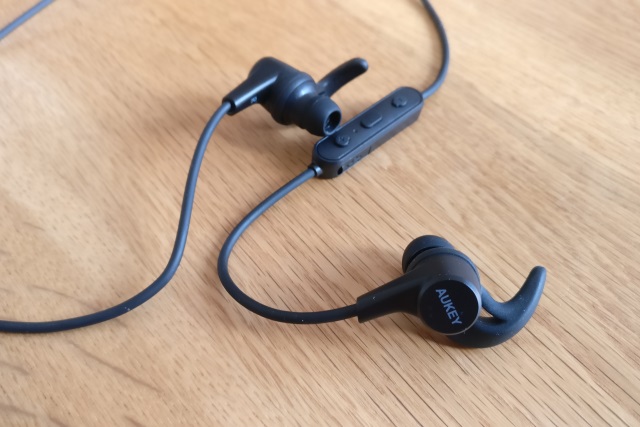 Let's get one thing out of the way: I hate earphones. I always have. This is not an irrational hatred, I've always liked the idea of in-ear buds -- I've just never been able to use them. The problem, it seems, lies with my right ear. To my knowledge it is a perfectly normally-formed ear, but it is singularly incompatible with earphones -- while the left will grip the bud nicely, the right vomits it out in next to no time.
So, I have long shied away from earphones, opting instead for either fully enclosed headphones, or the clip-on variety. At least that was the case until I tried the AUKEY EP-B40 Latitude Wireless Earbuds. While certainly not from a big name in the world of audio technology, they get off to a great start by featuring ear hooks that succeed in keeping the damned things in my ears -- win!
The AUKEY EP-B40 Latitude Wireless Earbuds can be connected to two devices simultaneously via Bluetooth 4.1, and the two earpieces can nestle neatly around your neck with a magnetic clasp when not in use. Being wireless, the earphones are powered by a rechargeable battery and a USB charging port is to be found in the in-line controls. Here you'll also find three multi-function buttons that can be used to pause, play, skip back and forth, adjust volume, power on and off, and switch between three EQ modes. There's also an integrated noise-cancelling microphone for use in phone calls.
The earphones come in a neat little carrying pouch which has enough room to also house a short USB charging cable and the three pairs of ear hooks and earbuds are varying sizes. The hooks are key to my liking of the earphones. Working much like a news anchor's earpiece, the soft hook clips into the fossa part of the ear while the tips ensure a complete seal around the entrance to the ear canal to help eliminate external noise.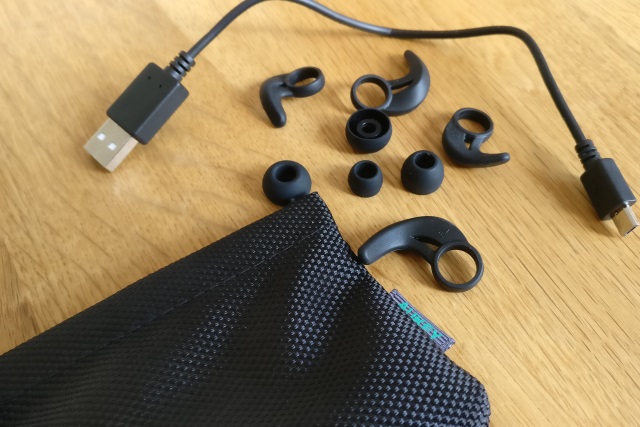 The hooks are effective enough to mean the earphones remain in place even when running (by which I mean sporadic bursts of sprinting with Roxxy the Malamute -- I'm no runner and can't account for their ability to remain in place for prolonged running sessions). IPX4 water resistance means the earphones should withstand rain showers.
The earphones are light and comfortable, and on a full charge you can expect to get about 7 hours of use. AUKEY claims 8, but in practice it is a little less for me. But what's really important is how these things sound... and they do not disappoint. Listing to both audio books and music, the earphones deliver clear, crisp sound which manages to deliver decent bass and treble without distortion.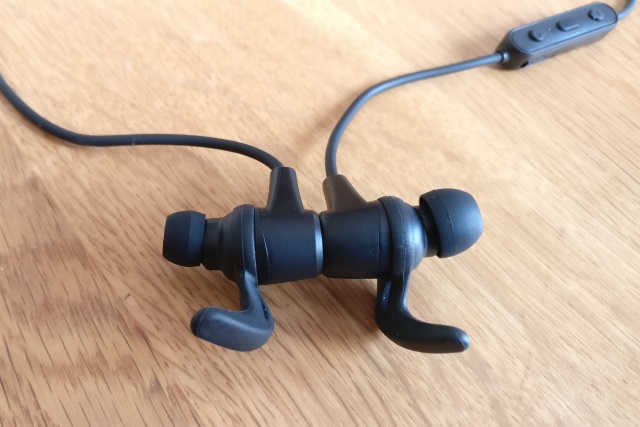 One small complaint could be that the top volume level is not as high as some people might like, but this is really nit-picking. These made me an earphone convert.
Here are the full specs of the EP-B40:
Technology: Bluetooth 4.1, A2DP, AVRCP, HSP, HFP, AptX
Noise reduction: 6th generation dual-mic CVc
Microphone sensitivity: -42dB ±3dB
Frequency bange: 20Hz-20KHz
Input: DC 5V
Charging time: 1.5 Hours
Playback time: Up To 8 Hours
Battery type: Li-Polymer (2 X 60mAh)
Range: Up to 10m / 33ft
Weight: 13g / 0.46oz
Check out AUKEY's video which shows off the EP-B40 earbuds:
The earphones are available to buy from Amazon for $46.99.