Ubiquiti Networks AmpliFi HD Mesh Wi-Fi System is a worthy Apple AirPort successor [Review]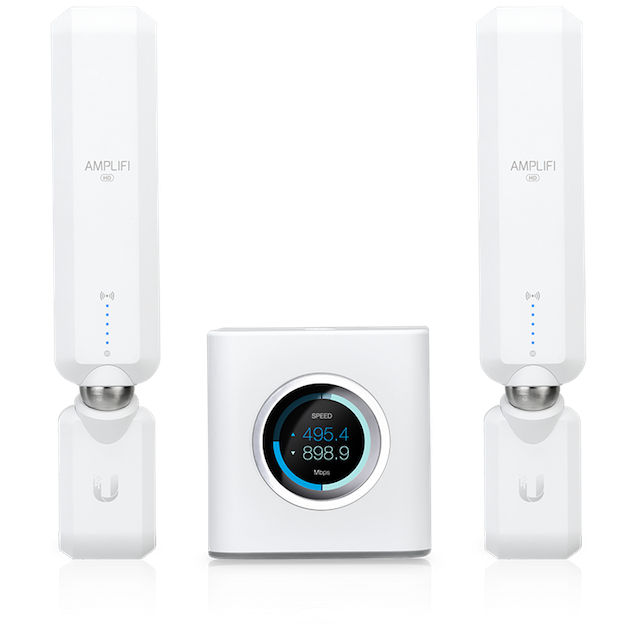 There are many great wireless routers on the market nowadays, from companies like Netgear, Linksys, and D-Link. My favorite router of all time is not being made anymore, sadly. Unfortunately, the company that made the aforementioned product is no longer making routers at all. That company's name is Apple. The AirPort Extreme was a great wireless router for many reasons -- it was secure, easy to use, and looked great. Yes, when you are putting a router in, say, your living room, the appearance does matter.
A new router that borrows design cues from Apple's routers caught my eye recently, and I knew I had to try it. Not only does the AmpliFi HD Mesh Wi-Fi System sort of look like an AirPort router, but it promised an easy app-based setup. What really sweetens the pot, however, is that the 802.11ac system uses "mesh" technology, allowing several access points to work together. Oh, and let's not forget that this home-based product is made by the much-respected Ubiquiti Networks.
The first thing that made me smile when opening the packaging was the AC adapter. No, I haven't gone mad. I was impressed by the fact it is USB-C. How cool is that? Earlier versions used micro USB, but newer variants have been upgraded with the newest such connector type. It's a nice touch that shows the company cares much about the product.
The star of the box is a beautiful white cube that is the AmpliFi HD router itself. It features a round LED touch display that lets the users interact with the unit for certain things like monitoring speed. Unlike Apple's routers which were limited regarding wired LAN ports, the AmpliFi HD has four in addition to the WAN port. This allows me to connect nearby devices, such as my Xbox One and Samsung Smart TV, with a cable for optimal performance.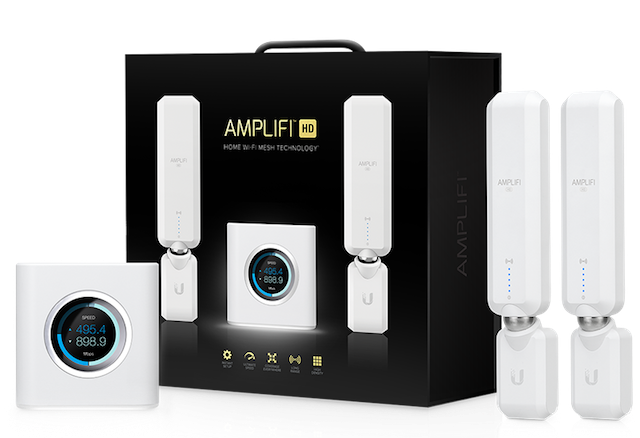 In addition to the router, there are two mesh access points called "AmpliFi MeshPoint HD" that plug directly into a wall outlet. The design here is quite brilliant, as the antennas sit on a magnetic ball joint. You can easily rotate -- or remove them -- without the need to screw or unscrew anything. They also have a series of LED lights to show you connectivity.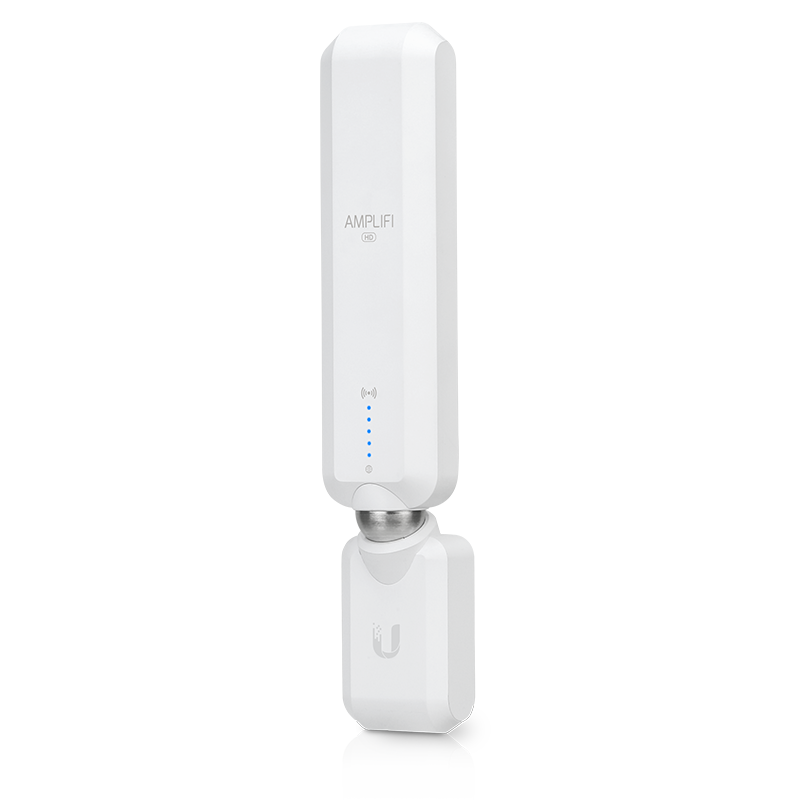 With the router plugged into my cable modem in the center of my house -- the main floor living room -- I decided to put one mesh access point on the second floor and the other on the main floor close to my back door. This means my main floor and upstairs should be well covered, while the access point at the rear of my house should extend well in to my backyard -- where I spend a fair amount of time with my iPad.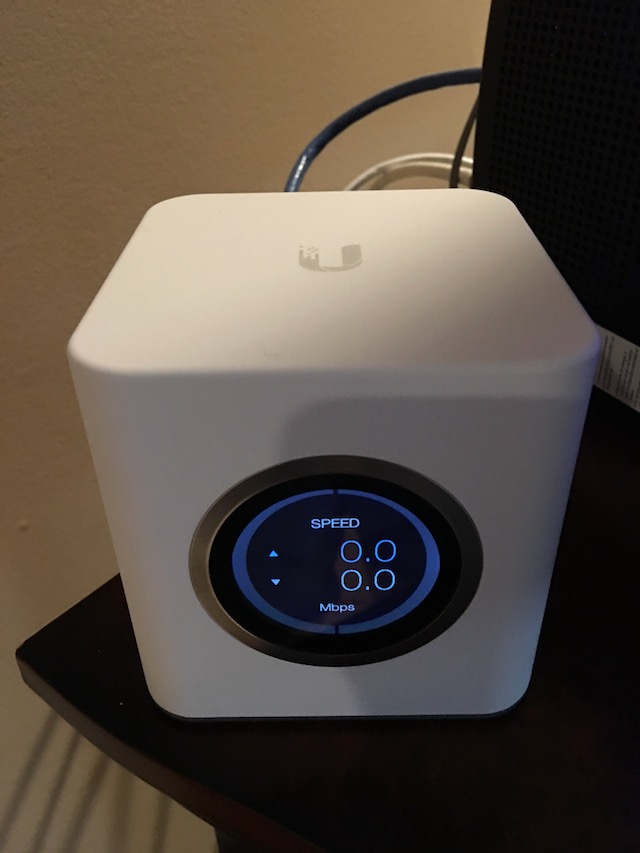 At this point, most experienced users would expect to jump on their laptop and access a web interface to configure the network. This would be wrong. Actually, it is instead done with either an Android or iPhone app -- I used the latter. This was surprisingly simple, and after going through as series of steps, I was off to the races. It is worth noting that that there isn't an iPad app, sadly, but the iPhone app will run on Apple's tablet.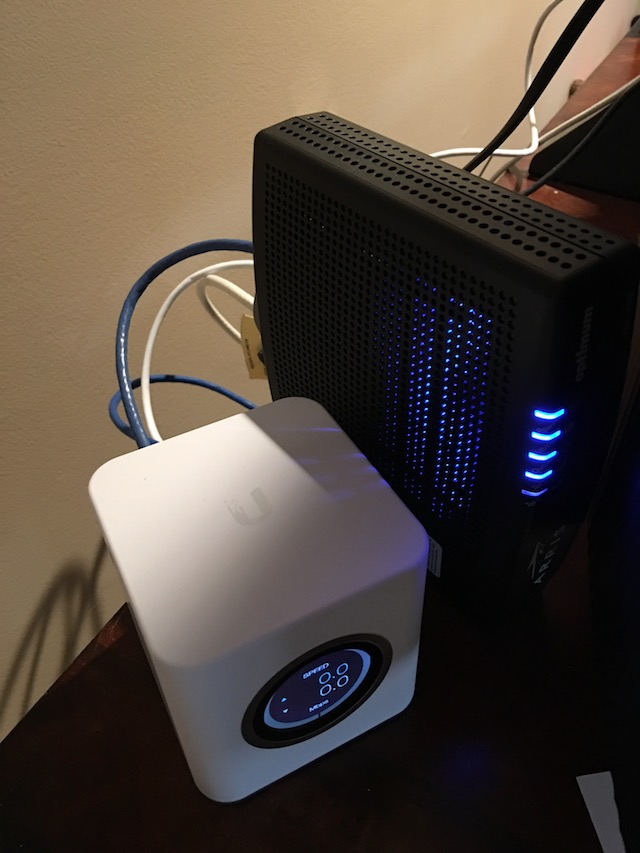 All was not smooth, however. Being fairly security conscious, the first thing I wanted to do was install the available firmware update. Unfortunately, the download failed for the first few attempts. It eventually worked, however, and then everything was up to date and running smoothly.
Before I would begin testing the connectivity, I had a big problem. The bottom of the router had a bright ring going around the base. This seems to just be for appearances, and while it does look cool, it also very distracting -- especially next to my TV. Thankfully, the intensity of the light can be adjusted, including turning it off entirely; phew! The brightness of the round LED screen can be adjusted too, so I turned it down a bit. There is also a helpful setting where you can put the lighting to sleep based on the time of day.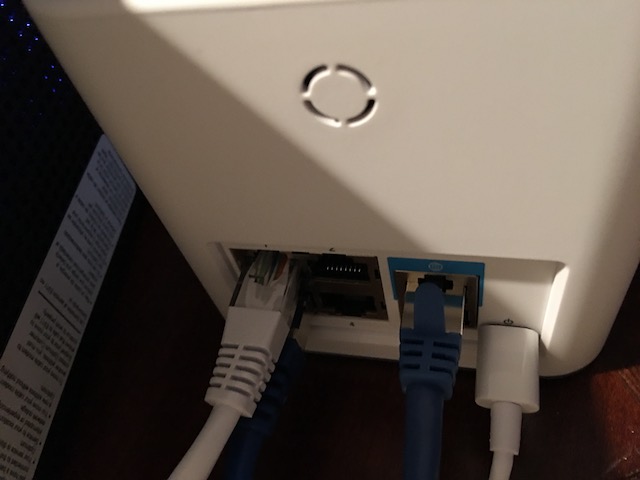 With everything configured as I wanted, it was time to do some testing. What's cool is, you can see which access point each device is connected to in the app. At first this was a bit confusing, as the default names for the two mesh access points in the app are just random characters. Luckily, you can customize this by assigning nicknames, and in my case, I used "upstairs" and "downstairs." This made things much easier.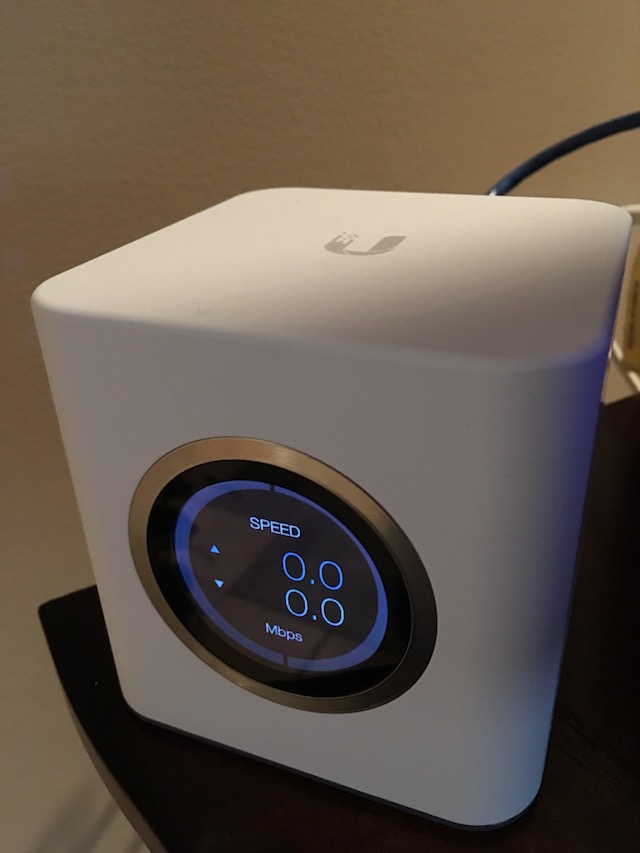 As you would expect, the devices generally connected to the access point that is closest as it should offer the best performance. When in my living room, devices connected to the main floor router. When upstairs, they mostly connected to the access point on that floor. There were some anomalies, however. Sometimes my MacBook Pro on the second floor would connect to the router a floor below rather than the much-closer access point on the same floor. To make matters worse, it would connect on the 2.4GHz band at a slower speed.
To remedy this, I would turn off the Wi-Fi on my MacBook Pro and then turn it on. It would then connect to the closer mesh access point on the 5GHz band as I wanted. Yes, this actually did matter. When running the Speedtest app on my Mac, I would see a dramatic speed boost when on the closer access point with the 5GHz band. It is worth noting, this "bug" only happened a few times. It has worked as it should ever since.
My internet speed is 200Mbps/down and 30Mbps/up. Whether connected to the router or one of the two access points, all devices were able to easily achieve that maximum. When running Speedtest benchmarks, the connection was remarkable stable, showing few jitters. When streaming video on my Apple TV or on my iPad, there was never any buffering while watching either. This met my needs perfectly.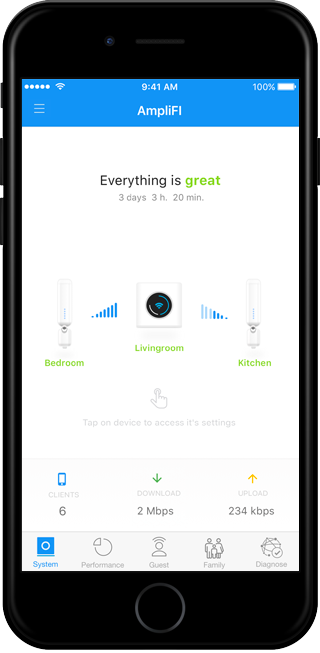 The app has some nice features for configuration, but it is quite sparse compared to other routers. You know what? Sometimes less is more. For many consumers, the typical web-based wireless router settings screens can be confusing. Here, it is limited to what the average user would want to access. For parents in particular, you can easily assign certain devices to your children, and then cut access when needed, such as for a punishment. If you want to temporarily block access for an individual device like, say, an Xbox One, you can do that.
One feature that I didn't try is the remote access -- letting you change settings while away from home. While I can see the benefit, I would argue that it could make your network less secure. To make it more worrying, it is done by tying to a Facebook or Google account. Sorry, but I am not linking either of those account types with my router!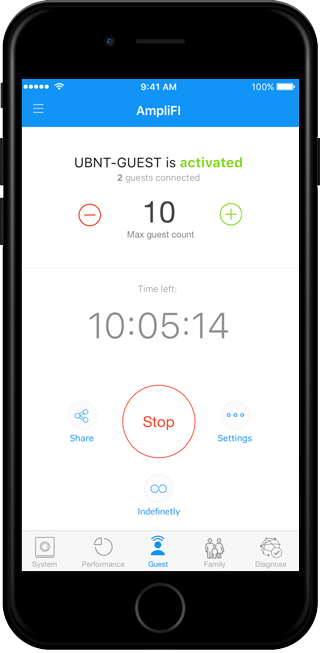 Ultimately, Ubiquiti Networks AmpliFi HD Mesh Wi-Fi System ($349) is a satisfying experience that I would recommend wholeheartedly to both technology experts and beginners. Is the front screen a bit gimmicky? Sure, you probably will not use it beyond showing off to friends and family, but it is still fun. It looks quite pretty in my living room and serves as nice conversation piece. I am more than happy to explain the mesh networking to my guests!
Quite frankly, the mesh networking works so well, that it has absolutely made me a convert. I used to just swear by a powerful router as a single access point, but this three-point solution provides a more balanced coverage for my entire house -- and well into my backyard. Mesh is the future, and the Ubiquiti Networks AmpliFi HD Mesh Wi-Fi System just makes it as painless as possible to set up.
I should mention that the router is also sold by itself ($149) without the additional access points for mesh networking. If you live in a small apartment or house, please know the router by itself is a very strong performer. In other words, even if you don't have a need for mesh networking with multiple access points, you should still give the beautiful router a look.
The AmpliFi HD Mesh Wi-Fi System is a winner and is very much recommended. Much like the Apple AirPort Extreme, it is fast, secure, and super easy to configure. Kudos to Ubiquiti Networks for creating such an excellent user experience and worthy successor to Apple's offerings.