Toshiba's new SG6 SSD series supports both older and newer PCs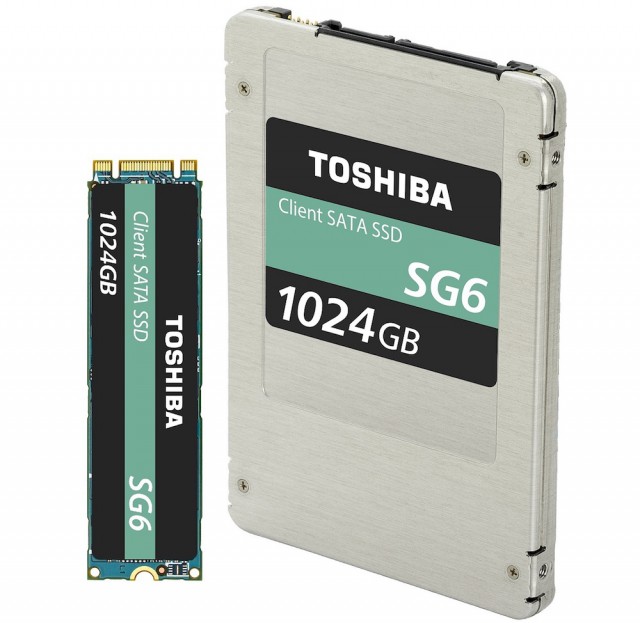 It used to be that SSDs, for all the benefits they provided over a hard drive, were hard to justify due to their super high prices and limited storage options. But, nowadays, there's something for everyone in the SSD market, and the selection is frequently getting better.
Toshiba's new SG6 series is a good example, being offered in both SATA 3 and M.2 2280 form factors, in three storage options that can make many of us happy, and with transfer speeds that put the vast majority of drives to shame.
The SATA 3 SG6 models support SATA Revision 3.3, which tops out at 6Gbps, and are said to offer transfer speeds of up to 550MBps for reads and 535MBps for writes. These are best suited for upgrading an older laptop or desktop, which doesn't have a faster interface.
Because an SSD is much, much faster than a hard drive, programs will open more quickly and transfers will take significantly less time. An SSD is also quieter, handles shocks better, and it is more energy-efficient too. Toshiba actually improved power consumption, claiming a 40 percent reduction compared to the previous generation.
In terms of storage options, there are three models announced at launch: 256GB, 512GB and 1TB. All of them will be available in both form factors.
The SG6 series uses Toshiba's 64-layer, 3 bit per cell (TLC) BiCS Flash and QSBC (Quadruple Swing-By Code) technology, the latter of which enables error-correction to protect from data corruption and improve reliability. Self-encrypting drive (SED) technology is also present.
Toshiba says the new SG6 series ships today to OEMs, but in limited quantities. There is no word on pricing for consumers.