Opera 47 (finally) adds bookmarks export, smoother video playback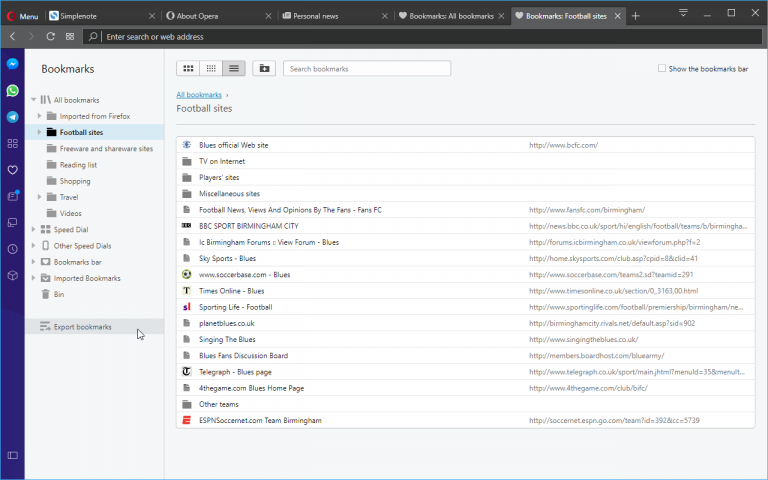 Opera Software has unveiled Opera 47.0 for Windows, Mac and Linux. It's a fast turnaround from Opera 46, taking less than the usual six-week development cycle to go from alpha to final release.
As a result, the new release is light on major features, but does boast a number of improvements, including smoother video and exportable bookmarks. It also updates the underlying Chromium engine to version 60.
Opera 47's headline new feature is the ability to export bookmarks from the application via a clickable button when in Bookmarks view. Bookmarks are exported as a single HTML file, and the feature simply brings Opera into line with every other browser on the market, so hardly worth shouting about.
The Bookmarks popup that appears when adding new bookmarks or Speed Dial entries has also received a number of bug fixes.
Elsewhere the Closed Tab lists has been expanded to retain the last 32 closed tabs, up from the original limit of 10, while users can now delay the background refresh of their news feeds to three- or six-hourly intervals via Settings > Browser > Personal news.
Video playback should now be smoother on the pop-up video player across all platforms. macOS users gain a bug fix for broken auto-played YouTube videos when switching to fullscreen, while Windows 7 users will be pleased to see the removal of flickering background images when switching between YouTube videos.
Opera's new user interface has also been tweaked -- the most noticeable change is that dark favicons have been lightened to make them more visible when running Opera with the dark theme. Light theme users benefit from better readability thanks to improved colour contrast.
One final tweak: Opera's "risky file protection" module has added .scf files (Windows Explorer command files) to the risky extension list for Windows users.
Opera 47.0 is available now as a freeware download for Windows, Mac and 64-bit Linux users. Existing users can update from within Opera itself -- simply open the Opera menu and choose About Opera to do so.