Remove stubborn apps, plugins and bundleware using IObit Uninstaller 7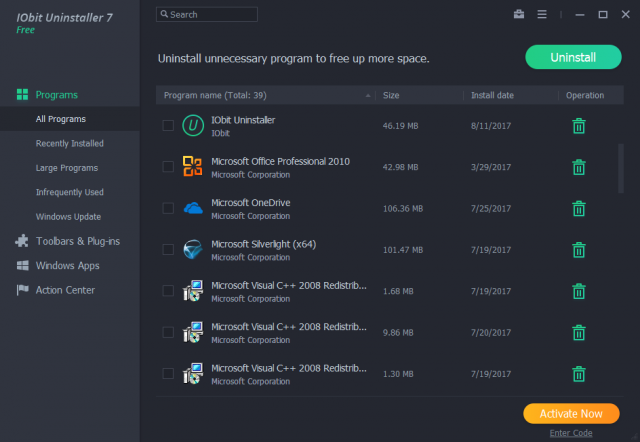 Whilst dealing with malicious software is an ongoing issue, people overlook problematic software, downright stubborn applications and unwanted bundleware that can be difficult to fully remove from your system.
We can't tell you how many people install security software, uninstall using Add/Remove Programs only to find new security won't install as the previous suite wasn't fully removed.
Uninstaller will find, report and ask if you want to remove unwanted browser plugins, bundleware (where an application has auto-installed other software without your permission or knowledge) and extensions and similar files.
You can list installed software by size, when they were last accessed or how recently they were installed. We liked the way you can select more than one application to remove and Uninstaller will simply work through each one in the background.
We found the ability to list and view all plugins by web browser, extremely helpful, quickly noting and removing old plugins we forgot were installed. Chrome, Firefox, Internet Explorer and Edge are supported.
What's new in v7? The scanning and uninstallation process is now 120 percent faster. Leftover files which cannot be deleted through the regular uninstallation process will be unlocked and removed. You get an updated Installation Monitor, so Uninstaller 7 will examine how new software is being installed so it can learn and remove fully at a later date.
Even though the basic version of Uninstaller 7 is free, there's a separate PRO version available for $19.99. The PRO version includes adware removal, one-click updates and a larger database of pre-programmed uninstallation scripts. PRO also includes a new Software Updater tool which will look for new versions of installed software and ask if you want to update.
Download IObit Uninstaller 7 Free.