Nest Thermostat E is a more affordable way to control your home's temperature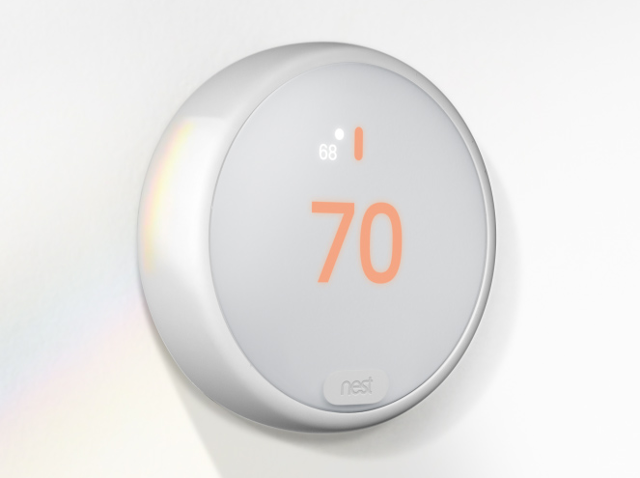 Earlier this year, my local energy company emailed me with an offer I couldn't refuse -- a big discount on a Nest Thermostat. While I had never really cared much about such a product -- I was OK getting up from my chair to control my home's temperature -- the price was too enticing. And so, I installed the product and linked it to my Amazon Echo. With the power of my voice, I can now control both my air conditioning and heating. It is amazing. The energy company has even issued me a check for allowing them to control it during a few weeks in the summer. Yeah, Nest is actually making me money!
Understandably, not everyone wants to spend an arm and a leg to get an energy-saving "smart" thermostat. Thankfully, today, the Google-owned Nest announces a new lower-priced "E" model. This affordable variant should be attractive to more thrifty spenders. It features a "frosted" screen, which could look even more classy than the pricier model, although that will ultimately be a matter of personal preference.
"The Nest Thermostat E moves away from the prominent look of the Nest Learning Thermostat and replaces it with a more subtle design, highlighted by a white exterior ring and frosted display. The frosted display is designed to blend into your home. It achieves this effect with special display technology that lets light out but doesn't let light in. When the frosted display is off, the screen is grey. When it's on, it displays soft text and images that are designed to be easy to see and read with a slight glow. The frosted display uses an ambient light sensor to share information at just the right brightness," says Nest.
The Google-owned company also says, "The core experience of the Nest Thermostat E includes features that people have come to expect from previous Nest thermostats. The Nest Thermostat E turns off automatically when it detects nobody is home, to help save energy. It's easy to change the temperature from anywhere with the Nest app from a phone, laptop, or smartwatch, and even with popular voice assistants such as Google Home or Amazon Alexa. Through the Works with Nest program, additional connected products, such as ovens and lights, integrate with the Nest Thermostat E to add more comfort and convenience. Nest sends alerts if the heating or cooling system needs attention, so customers can act before it breaks."
This slideshow requires JavaScript.
If you are worried about the screen on the Nest Thermostat E compared to the standard model, I would tell you that you may rarely interact with the unit directly anyway. Since you can control it with your tablet, smartphone, Amazon Echo or Google Home, there is almost never a need to stand in front of your thermostat like a caveman.
So, how much is the more affordable Nest Thermostat E? It is only $169 -- the standard model is $249. You can buy it here now.