Manjaro Gellivara 17.0.3 Arch-based Linux distro now available -- final 32-bit release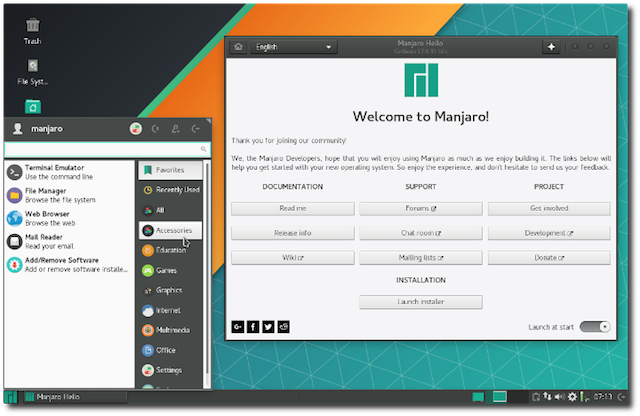 Tomorrow is Labor Day, meaning for many of you, this is a three-day weekend. While some folks will use this time to relax, we computer geeks will instead tinker with hardware and try new software. If you like to install and play with various Linux-based operating systems, Labor Day Weekend is perfect for this!
Today, version 17.0.3 of the Manjaro Gellivara Linux distribution becomes available. This Arch-based operating system is quite the satisfying experience -- I highly recommend it. This will be the final "Gellivara" release, which also means it is the final 32-bit version of Manjaro. Yes, folks, for the next major version of the operating system, you will need 64-bit hardware to use this distro. If your hardware is still 32-bit only, please buy a new machine already!
"Manjaro Gellivara was a great release! Now we are proud to announce v17.0.3, our final release of Gellivara. It took us a little over two months to finish this updated version. We improved our hardware detection, fixed some features in our installer (Calamares), added the latest packages available to our install media and polished our release as a whole," says Philip Müller, Manjaro.
Müller further says, "Due to the decreasing popularity of i686 among the developers and the community, we have decided to phase out the support of this architecture. The decision means that v17.0.3 ISO will be the last that allows to install 32 bit Manjaro Linux. September and October will be our deprecation period, during which i686 will be still receiving upgraded packages. Starting from November 2017, packaging will no longer require that from maintainers, effectively making i686 unsupported."
Philip Müller shares the following changes in version 17.0.3 of the OS.
Latest LTS kernel from linux49 series
Latest Xorg-Stack from v1.19 series
Latest Plasma5, Apps and Framework and QT
Updates to our graphical package managers
Enhancements and Improvements to our Manjaro Tools & Profiles
MHWD adopted a more efficient way to handle libglx binaries
Updated and new designed themes and styles
Updates on Calamares
Ready to give this version of Manjaro Linux a try? You can download the ISO here. Besides choosing between 32-bit and 64-bit, you also have three desktop environment options -- GNOME, KDE, and Xfce. All three are solid choices, so you really can't go wrong. If you have more meager hardware, however, Xfce is the most lightweight of the trio.