YouTube ripping site YouTube-MP3 to close after record label lawsuit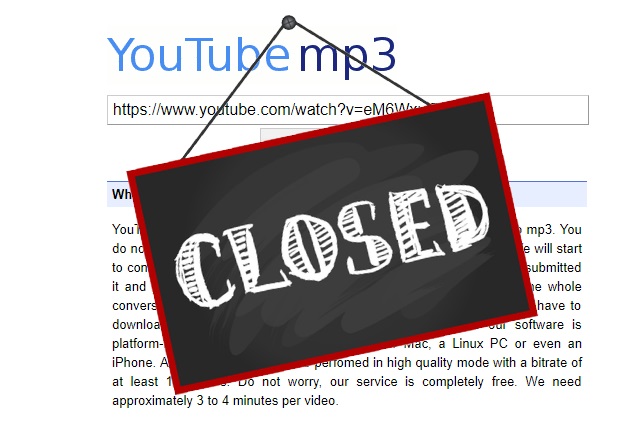 YouTube-mp3.org -- "the easiest online service for converting videos to mp3" -- is closing down. The ripping site faced action from numerous record labels, but it has now come to an arrangement with the RIAA.
The site is one of many that make it possible to convert YouTube videos into MP3 format, but it has piqued the interest of copyright lawyers. Millions of users meant the site was able to rake in ad revenue -- something the RIAA and record labels were less than happy about. An arrangement with the RIAA means YouTube-MP3 will close, leaving users looking for another site to cater for their YouTube ripping needs.
The private agreement will see the site shut up shop, after the domain is handed over to the RIAA. In paying an undisclosed sum, the site will be able to avert the legal action it faced.
Streaming and ripping site like YouTube-MP3 are the latest targets for record labels which are keen to do everything possible to crack down on copyright infringement and piracy. At the moment the details of the arrangement that has been agreed in this case have not yet been made public, but the death of such a major site will send ripples across the internet, and it likely to result in the closure of other similar services.
What we do know -- thanks to a TorrentFreak report -- is that an injunction is in place that prohibits the operator of YouTube-MP3 from "knowingly designing, developing, offering, or operating any technology or service that allows or facilitates the practice commonly known as 'streamripping'."
You'll notice that YouTube-mp3.org is still functioning at time of writing, but you can expect the site to disappear any time now.
Image credit: missbobbit / depositphotos