StarTech releases a trio of multi-monitor USB-C laptop docking stations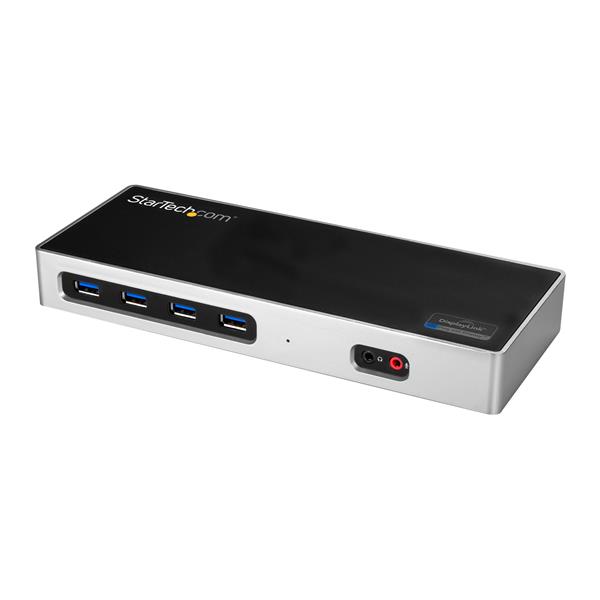 USB-C devices are coming thick and fast lately -- it feels like it is raining dongles and docks! While Apple's MacBook computers aren't the only devices with such ports, they certainly accelerated the popularity. Of course, there are both Windows and Linux machines with USB-C too.
StarTech manufactures many USB-C devices, and now it is releasing three new docking stations. Why three? Well, they offer different features and come in at different price points. Heck, one model even has an integrated 2.5-inch drive bay for an HDD or SSD! All three docking stations can charge/power a laptop too, with a max output of 60W.
"StarTech.com has announced the launch of three new USB-C Laptop Docking Stations which offer industry-first features. These unique features include: triple 4K-monitor display outputs, dual DisplayPort video output, built-in SSD/HDD storage bays and dual 4K monitor support for laptops, whether using a USB-C or USB 3.0 connection. All three of the docking stations are compatible with Windows and Apple laptops equipped with a USB-C or Thunderbolt 3 port," says StarTech.
ALSO READ: Startech USB-C to HDMI and VGA presentation adapters [Review]
The company also says, "The new docking stations cater to creative and business professionals by providing quality graphics resolution and versatile solutions for a full workstation setup. Creative professionals, such as graphic designers and videographers can take advantage of the best quality graphics from the docking station's output options of multiple 4K displays. Business users will find the combination of only a single cable and power adapter to power and charging their laptop provides an efficient and clutter-free workstation setup."
StarTech shares some significant features for each docking station below.
Triple-4K Monitor USB-C Docking Station ($303.99) -- DK30CH2DPPD
This slideshow requires JavaScript.
Two DisplayPort and one HDMI 4K video output featuring DisplayLink DL-6950 chipset technology
120W power adapter providing 60W Power Delivery for laptop charging
Five USB 3.0 (4x USB-A and 1x USB-C) device ports, including convenient fast-charge ports
Supports single 5K display output
Dual-Monitor USB-C Docking Station with 2.5-inch SSD/HHD Bay ($274.99) -- MST30C2HDPPD
This slideshow requires JavaScript.
Easy access 2.5-inch SATA HDD/SSD internal drive bay
Two DisplayPort video outputs
100W power adapter providing 60W Power Delivery for laptop charging
Three USB 3.0 (USB-A) device ports, including convenient front fast-charge ports
Dual-4K Monitor Docking Station ($223.99) -- DK30A2DH
This slideshow requires JavaScript.
Multiple dual-4K 60Hz video output combinations -- dual DisplayPort, dual HDMI, DisplayPort and HDMI
DisplayLink DL-6950 chipset technology
Six USB 3.0 (USB-A) ports
USB-C to USB-C and USB-C to USB-A cables are included
You can buy these docks from the company directly by clicking on the appropriate link above. Before you commit to one, I suggest looking at the differences carefully, as it is quite a diverse trio of products. While the Triple-4K docking station is probably the most impressive of the bunch, the model with a 2.5-inch bay is very intriguing too.
Which one of these docking stations will you buy? Please tell me in the comments below.