Startech USB-C to HDMI and VGA presentation adapters [Review]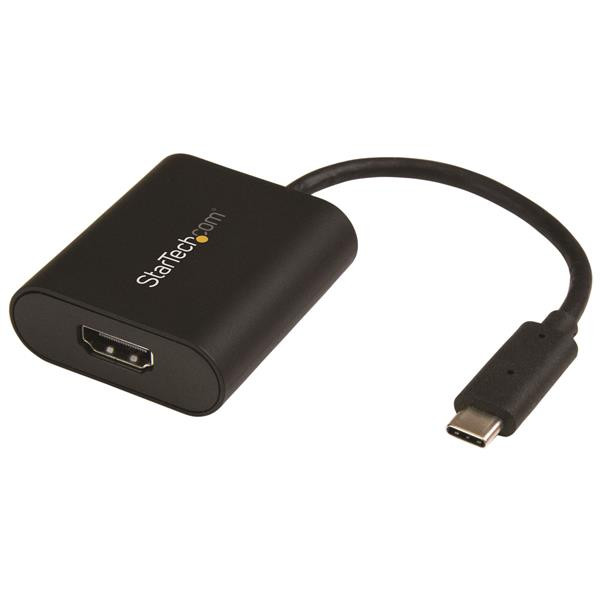 USB Type-C dongles are a dime a dozen nowadays. Thanks to Apple MacBook laptops that only leverage USB-C, many manufacturers quickly jumped on the bandwagon, producing many adapters, dongles, and other accessories.
As the owner of a 2016 MacBook Pro, I am very familiar with dongles -- I own several. While you might think they are all the same, you'd be mistaken. Not only are they of varying quality, but the features are not the same either. Case in point, the Startech USB-C to HDMI and VGA presentation adapters. They may look like your typical HDMI and VGA dongles, but they have a special feature.
On the rear of the Startech USB-C to HDMI and VGA presentation adapters is a little switch that, when flipped, will prevent your computer from going to sleep. Why would you want this? Well, in a business setting, when giving a PowerPoint presentation, it is not uncommon to have a long discussion during a slide. With no movement on the computer, it can sleep and lock.
Not only does this look unprofessional, but it can ruin a presentation. Quite often in offices, a machine being used for a presentation is setup beforehand by an IT person, where they login and then leave. When the computer sleeps and locks, the presenter then must hunt down the IT person, since they don't know the login credentials themselves. If the IT person went to lunch or left the office, there can be a big problem.
To avoid these dilemmas, the Startech presentation adapters will periodically move your mouse pointer very slightly so that your computer thinks there is user-initiated movement. As a result, your computer will never sleep until you flip that switch to the off position. How cool is that? I tested the feature and it worked brilliantly -- preventing my PC from sleeping or my monitor from shutting off.
I know what you are thinking -- can't you instead go into the computer's settings and do this? Possibly. If it is a work laptop, however, it is possible that you will be restricted from doing so. Even if you do have access to alter the settings, it can be a hassle to constantly change them. Most people will want the computer to sleep when they aren't doing a presentation. Having to remember to go back after a presentation to change the settings is an annoyance.
ALSO READ: Logitech unveils revolutionary Spotlight Presentation Remote for PowerPoint, Keynote, and more
That presentation feature aside, the dongles are very well-built, as should be expected from Startech. I often buy their products, and I cannot recall ever being disappointed. The bodies are made of a smooth matte black plastic, that feel solid and does not creak when squeezed. The Type-C cables have a good thickness, but aren't overly stiff. The only moving part -- the switch -- seems sturdy enough, and should last if not abused. Ultimately, you should not worry about tossing them in a bag when on the move.
This slideshow requires JavaScript.
So, do I recommend Startech USB-C to HDMI and VGA presentation adapters? Yes, but only if you need the feature. Compared to standard display-out dongles, they are a bit expensive. The VGA adapter is currently listed at $47.99, while the HDMI variant is a bit less at $45.99. If you have no need for the presentation switch, a standard USB-C to VGA or HDMI dongle can be had for a fraction of the cost.