Opera 48 unveils pop-up search and conversion tools, Snapshot screen-capture utility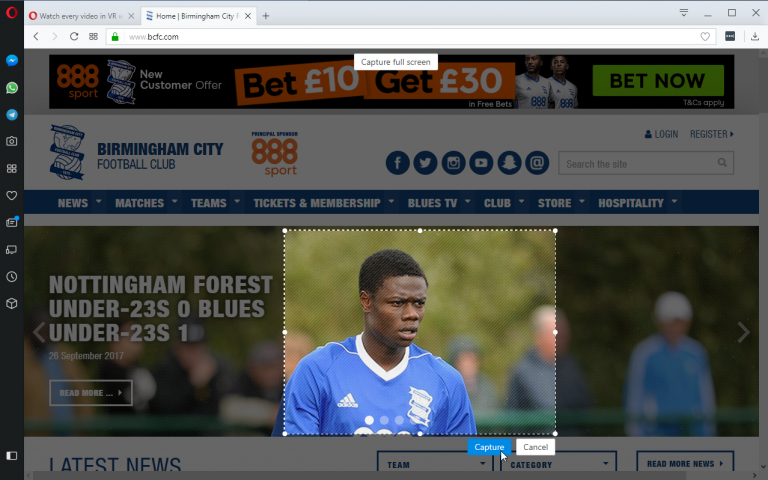 Opera Software has unveiled Opera 48 for Windows, Mac and Linux. After the last feature-light release, version 48 adds a number of interesting new features as well as improvements.
Chief among these is a new pop-up search tool, which also doubles as currency, unit and time zone converter. Opera also adds a new screenshot capture tool for web pages, plus widens its bookmark-importing tool to support Edge and Yandex browsers.
The headline new feature is Opera's new pop-up search tool. Users can now simply highlight text on an existing page and choose 'Search' from the automatic pop-up that appears. This opens a separate browser tab and displays the results using the currently selected default search engine.
Users can also perform a range of currency, unit and time zone conversions simply by selecting the existing measurement on a web page -- this pops up alongside the 'Search', 'Copy' and (Mac-only) 'Share' options.
Opera 48 also unveils a new Snapshot tool. This is evoked via Menu > Snapshot, the sidebar (click the camera icon) or keyboard shortcut: Ctrl+Shift+5 on Windows and Linux; Apple+Shift+5 on Mac.
When triggered, part of the screen is pre-selected for a screenshot. Users can resize this as required (simply drag down to capture unseen parts of web pages) or choose 'Capture Full Screen' to capture the entire (visible) browser window.
Once captured, images can be copied to the clipboard, saved in PNG format or 'shared' to compatible apps such as OneNote in Windows 10.
Other improvements include the ability to now clean out unwanted suggestions from the autocomplete feature. Look for an 'X' icon, indicating the entry can be deleted from both search and Address Bar dropdown entries.
The main Opera menu has been reorganized -- for example, all bookmark-related features now reside under their own Bookmarks sub-menu. A 'Recently Closed Tabs' option has also been added under History.
Edge and Yandex browser bookmarks can now be imported into Opera (alongside existing support for Chrome, Firefox, Internet Explorer, Safari and HTML bookmark files).
The browser interface has been further "sharpened" to look better on HiDPI displays and the underlying Chromium engine has been updated to version 61.
Opera embraces VR
The stable release comes days after Opera unveiled Opera Developer 49, which sees it add a built-in player that can display 360-degree video direct from the web in supported OpenVR headsets, including Oculus Rift and HTC Vive.
The feature supports both virtual reality video and standard 2D video. It can automatically detect compatible headsets and will display a 'Watch in VR' button above the video.
Opera 48.0 and Opera Developer 49.0 are both available now as a freeware downloads for Windows, Mac and 64-bit Linux users. Existing users can update from within Opera itself -- simply open the Opera menu and choose About Opera to do so.