Microsoft to close Groove Music Pass and move users to Spotify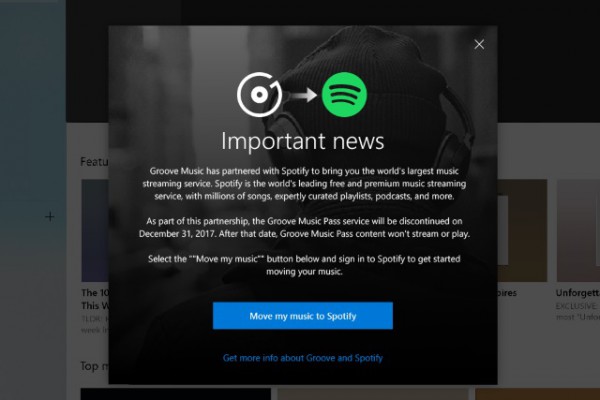 Microsoft has announced plans to close down its Groove Music Pass subscription service. The company is also going to kill off the ability to purchase music from the Windows Store.
Microsoft is partnering with Spotify, and offering a seamless migration from Groove Music to its former competitor. The cull is coming on December 31, and after this date the Groove Music app will no longer offer the option to stream, purchase, and download music.
While streaming is being killed off, the Groove Music app will live on so people can use it to play locally-stored content. But Microsoft is telling people that they should consider migrating to Spotify, and a transition process will kick in soon. This week, Windows Insiders will be able to start moving playlists and music collections from Groove Music to Spotify, and this will roll out on a wider scale next week.
In a post on the Windows Blog, Microsoft says:
With the continued advancement of music streaming today, all the world's music has become easily accessible across a variety of devices, unlocking new ways to discover and experience music. As we continue to listen to what our customers want in their music experience we know that access to the best streaming service, the largest catalog of music, and a variety of subscriptions is top of the list.

Which is why we're excited to announce that we're expanding our partnership with Spotify to bring the world's largest music streaming service to our Groove Music Pass customers. Beginning this week, Groove Music Pass customers can easily move all their curated playlists and collections directly into Spotify. Plus, you may be eligible for a 60-day free trial of Spotify Premium.
The new partnership is essentially an admission by Microsoft that Groove Music has failed, but the company is keen to highlight the fact that teaming up with Spotify will give music fans access to more songs than ever.