Microsoft announces Samsung HMD Odyssey Windows Mixed Reality headset, acquires AltspaceVR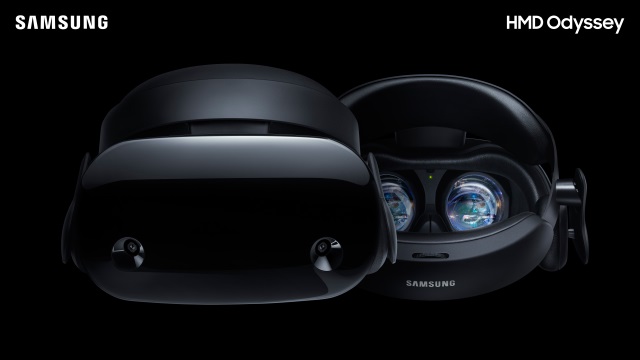 At a Windows Mixed Reality event in New York City, Microsoft and Samsung joined forces to reveal the latest addition to the range of Windows Mixed Reality headsets. Samsung's offering seems to be rather more impressive than others that have been announced.
The Samsung HMD Odyssey offers a slightly higher resolution and wider field of view than other headsets. It also features integrated headphones and can be adjusted to suit varying eye gaps. Microsoft also announced that it has acquired virtual reality startup AltspaceVR.
The headset is available for pre-order right now, while the official on-sale date is November 6 -- quite fitting for what is the sixth headset to be added to the Windows Mixed Reality Range. It comes complete with a pair of motion controllers, and will set you back $499. Samsung has shared the following details about specs for the headset and controllers:
Samsung HMD Odyssey (Headset)

Platform: Windows Mixed Reality
Display: Dual 3.5" AMOLED, 1,440 x 1,600 @90/60Hz
Interface: HDMI2.0 + USB 3.0 Interface Bound Cable (4m Length)
Lens: Single Fresnel
Field of View: Φ66, FOV 110º, 6.7X
IPD: 60-72mm Range
Camera: 6 DOF Camera x 2
Sensor: Accelerometer (6 Axis) |  Gyrometer (6 Axis ) | Compass (3 Axis) | Proximity Sensor | IPD Sensor
Acoustics: 2 MIC Support | Cortana | Built-in AKG Headphone
Control & Function: Volume | IPD Adjustment
Dimension: 202mm (W) x 131.5mm (D) x 111mm (H)
Weight: 645g

Samsung HMD Odyssey (Controller)

Control & Function: Touchpad (Clickable), Menu button, Windows/Controller power button, Trigger, Thumbstick, Indicator light
Sensor: Accelerometer (6 Axis) |  Gyrometer (6 Axis ) | Compass (3 Axis)
Battery: AAA Battery x 2ea
Dimension: 154.2 x 119.1 x 119.1mm
Weight: 160g
At the event, Microsoft also spoke about the purchase of AltspaceVR which provides a Second Life-style VR social experience for people around the world. It's not clear exactly what Microsoft intends to do with the company, but a post on the AltspaceVR website says:
Microsoft is excited to incorporate communications technology into our mixed reality ecosystem. AltspaceVR takes personal connections, combines them with real-time experiences, and leverages immersive presence to share experiences. Situations of people, places, and things have deeper meaning and in turn, are more memorable. We're excited to see how far this technology can go.
You can watch the Windows Mixed Reality presentation video here: