Google launches Gmail Add-ons and brings a range of business tools to the inbox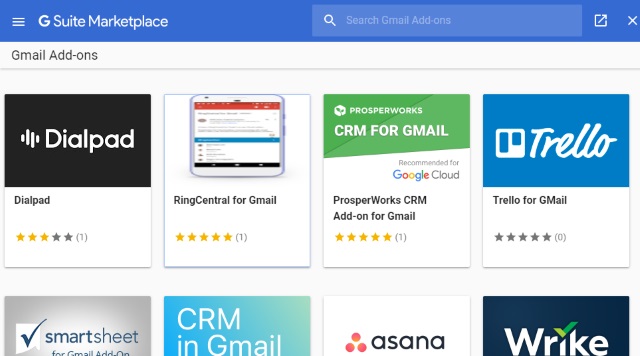 Integration is the name of the game these days, and Google is taking steps to ensure that its own services offer integration with the tools and services people need to get their work done. With this in mind, the company today launches Gmail Add-ons after a beta testing period as a developer preview earlier in the year.
Gmail Add-ons are extensions that bring a number of big-name services -- such as Trello, Wrike and Asana -- to your inbox. While there's a definite business and enterprise bias, it's something that is available to everyone, starting right now.
The arrival of Gmail Add-ons is Google's recognition of the fact that many people now spend a huge amount of time in their inboxes, and the company is trying to make its email service even more useful. Pleasingly, add-ons are available on both the web and on Android, and Google explains that "your inbox can contextually surface your go-to app based on messages you receive to help you get things done faster."
The company shares a list of the currently available add-ons:
Asana: Turn communication with clients, customers and teammates into tasks that can be tracked with your team in Asana, all from your inbox.
Dialpad: Message or call colleagues on your device, any time. Automatically view recent communications or save a new contact straight from Gmail.
DocuSign (coming soon): Sign and execute contracts, agreements and other documents directly in Gmail using the DocuSign add-on.
Hire: Add candidates, manage candidate information and upload resumes without leaving Gmail. You can access full job applications from the Hire add-on.
Intuit QuickBooks Invoicing: Create and send professional invoices directly in Gmail. Let customers pay you online and track invoice status and payments no matter where you are.
ProsperWorks: Easily access prospect or customer data, and log activities from calls, demos and meetings. You can also scan related opportunities, tasks and events.
RingCentral: See the online/offline status of RingCentral contacts, review recent call history, make outbound calls (requires RingCentral for Mobile) and view and send SMS messages.
Smartsheet: Add email content and desired attachments directly to Smartsheet without leaving Gmail.
Streak: Add email threads to deals, view enriched contact info and quickly respond with snippets directly from Gmail with the Streak add-on.
Trello: Turn email into actionable tasks in Trello to give your team a shared perspective on the work that needs to be done.
To get started with add-ons, click the settings wheel to the upper right of your Gmail inbox and select Get add-ons from the menu. You can then browse through the G Suite Marketplace and install anything that you feel may be useful.