OnePlus 5T launches in Brooklyn on November 16 -- and you can be there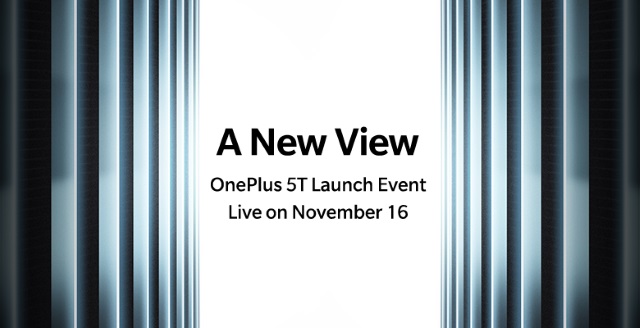 Just a few days ago it was confirmed that the upcoming OnePlus 5T will have a 3.5mm headphone jack. Rumors and leaks have already given a hint of the specs and a release date, but there has been very little official news from OnePlus. Until now.
The phone maker has announced that the OnePlus 5T will be unveiled next week at an event in Brooklyn, New York. The event -- dubbed "A New View" -- will take place at 11:00AM EST (4:00PM GMT / 5:00PM CET) on November 16 and can also be viewed online. In a couple of days, tickets will go on sale, giving fans the chance to attend the launch event and walk away with a OnePlus swag bag filled with goodies.
See also:
Tickets for the launch event will be available to purchase from the OnePlus launch page starting November 8 for $40, and this is the same page that you can use to watch the event if you're unable to attend. At the moment, OnePlus is giving away very little about the new handset, but in a post on the company forums, CEO Carl Pei says:
As many of you know, our team has been hard at work on the OnePlus 5T. But our products aren't built by us alone, the OnePlus community has played a key role. Feedback from our users led us to develop one of the industry's most powerful video stabilization solutions, as well as one of its most accurate sRGB display calibrations.
He goes on to say:
For those eagerly considering the OnePlus 5T, let me share a key piece of info to help you decide. Sales for the OnePlus 5T in North America and Europe start on November 21. The OnePlus 5T will be available in China on December 1. Early birds in India will be able to get their device through a flash sale on November 21, while official sales start on November 28.
For OnePlus fans in the UK, exclusive pre-orders with O2 will begin online at 5:15pm GMT on the November 16 and in-store the following day. Open sales of the OnePlus 5T will begin online at oneplus.net from 2:00PM GMT on November 21.
In the meantime you can check out a teaser video: