SoftMaker releases Office 2018 with enhanced Thunderbird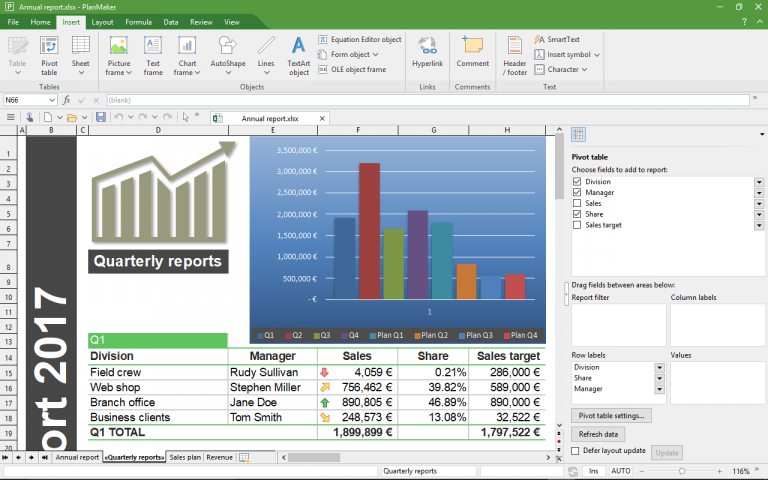 You have to admire some of the recent design work from Microsoft. Windows 10 has transitioned into a robust and visually-appealing operating system, whilst Office 2016 really is a superb, well-designed, cross-platform office suite.
In addition, Office 365 offers reasonably priced subscription and includes a fair number of licenses for your devices. We have Office 365 installed on our Mac and Windows computers and it's seamless switching between the two platforms. So, why would you need anything else? That's certainly a valid question. We do not see too many Office 365 subscribers complaining about the price and home users can pick up a license for as little as $5.99/month for a single device.
German developer SoftMaker has released its Office 2018 suite. The Standard edition includes TextMaker (word processor/desktop publishing), PlanMaker (spreadsheet) and Presentations. The Professional version offers four separate dictionaries from Berlitz. You also get a "SoftMaker enhanced" version of the email client, Mozilla Thunderbird, which includes a few user-interface improvements.
At first glance, SoftMaker Office 2018 looks incredibly similar to Microsoft's Office 2016 user-interface and that's no bad thing. But you also receive an alternative UI, which is referred to as a "classic menu" design. All the components are fully compatible, natively supporting DOCX, XLSX and PPTX, offering seamless support between the two office suites.
Although we'd love to love SoftMaker Office 2018, we're slightly confused who this is aimed at. It's priced more competitively than Microsoft Office 2016, with the Standard version available for $/€69.95, which includes a 5-computer non-commercial license. If you plan on using it commercially, you are limited to 1-device.
If you take into account that you can purchase an Office 365 Home licence for $99 (or $9.99/month), which has a flexible 5-device license, plus full Mac, iOS and Android support, with 1TB of OneDrive cloud storage and 60 minutes (per user) of Skype calls, plus 60GB of Outlook email storage, then you realize that Office 365 is very competitive. Even more so from retail.
It's worth adding that Mac and Linux versions of SoftMaker Office 2018 are in development, but not yet available, so you are limited to the Windows edition at launch.
Download SoftMaker Office 2018. A separate 64-bit build is also available.