G.SKILL announces CL17 Trident Z RGB 32GB DDR4-4266MHz memory kit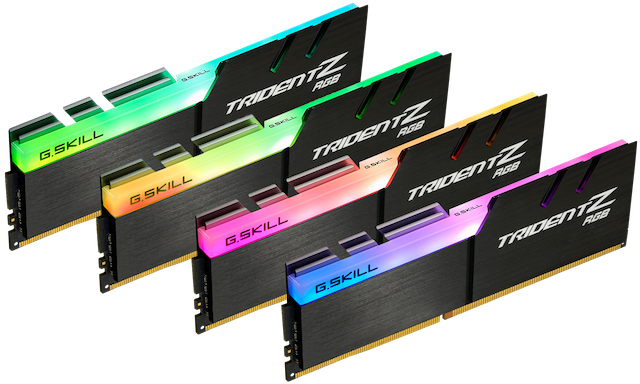 When consumers buy RAM for their computers, they often look at the rated speed. That is a smart thing to do, although it is only part of the picture. Actually, CAS latency timings are just as important, if not sometimes more so. You see, it is sometimes possible to get better performance out of slower RAM with a lower CAS rating. In other words, throwing money at MHz and ignoring CAS is a big mistake. Here is a great video to learn more about RAM timings.
Today, G.SKILL announces a 32GB CL17 Trident Z RGB DDR4-4266MHz memory kit, which the company claims is the only RAM at that speed with a CAS latency of 17. In addition, there are CL17 Trident Z RGB kits at 4000MHz and 4133MHz too. To prove stability, G.SKILL has successfully tested the kits using an impressive machine -- an Intel Core i7-8700K CPU and ASUS ROG MAXIMUS X HERO motherboard running Windows 10. The memory easily ran at both claimed speeds and latency without errors using Intel XMP 2.0.
"G.SKILL is always improving and reaching higher levels of performance than ever before. The fastest selection from the new Trident Z RGB lineup is available at DDR4-4266MHz CL17-18-18-38 32GB (4x8GB) at 1.45V. Following the DDR4-4266MHz kit, are memory kits running at DDR4-4000MHz and DDR4-4133MHz in both 16GB (2x8GB) and 32GB (4x8GB) configurations, all at an ultra-efficient CL17-17-17-37 timing," says G.SKILL.

The popular company further says, "This is the first time in tech history that DDR4 memory kits above DDR4-4000MHz speed is available at the low CL17 timing, and with lower timings, memory kits can utilize high frequency to its fullest potential with improved memory performance. To achieve the ultra-low latency of CL17, these new memory kits are made with rigorously hand-binned, high-performance Samsung B-die DDR4 IC components."
You can see proof of the RAM running at claimed speeds and latency without errors in the images above (click to enlarge). Unfortunately, you cannot buy these kits until January 2018 at the earliest -- sorry to get your hopes up. We will learn pricing at that time too -- it is unknown for now, sadly. Expect to pay a lot, however!