Target launches new Wallet payment method for Android and iPhone in time for Holiday Shopping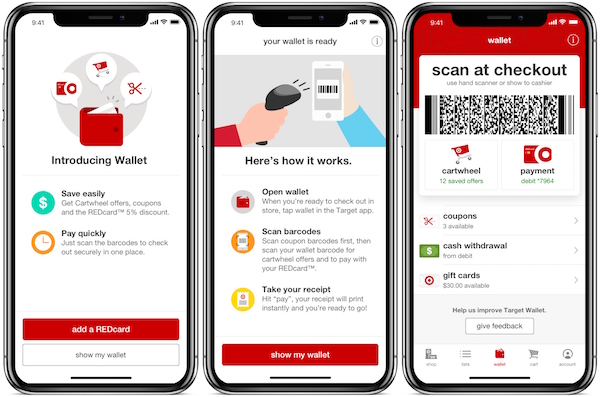 Holiday shopping is here, which means many consumers are visiting popular retailers like Walmart, Kohl's, and Target. True, more and more shoppers are opting for an online experience from websites like Amazon, but the brick-and-mortar sellers are still wildly popular. Yeah, waiting in line stinks, but it can sometimes be more rewarding to see products in person. Shoes and clothing in particular can be tried on before buying.
Regarding those long lines that shoppers despise, Target has found a way to make them move a bit quicker. You see, starting today, the Target app for Android and iOS gains a new Wallet feature that makes the act of paying even faster. Better yet, it makes it easier to manage and use coupons.
"Today we're introducing Wallet in the Target app, a smart new way for guests to pay and save at Target stores. With Wallet, guests can pay using their Target REDcard and save with Cartwheel -- all in a single scan of their phones at checkout," says Target.
The retailer also says, "One big benefit is faster in-store checkout -- up to four times faster than other payment types, in fact. (We timed it!) Another perk? Wallet combines digital savings -- Cartwheel offers and Weekly Ad coupons -- with the 5 percent REDcard discount. And, coming soon, guests also will be able to store and redeem Target GiftCards with Wallet."
The downside is that it only works with Target credit cards right now. This means you cannot use your standard bank-issued Visa, Amex, MasterCard, or Discover Card. Non-Target debit card users are also out of luck.
To use this feature without opening a Target line of credit (and potentially harming your credit score) the company says you will eventually be able to load a gift card with cash. While that might be acceptable for you, please remember -- buying a gift card is essentially giving the store an interest free loan. Me personally, I'd rather hold onto my cash myself than let Target do so, but hey, that's just me.
Will you be embracing Target's new Wallet payment service? Tell me why or why not in the comments below.