Revolutionize your writing with the latest PhraseExpress 13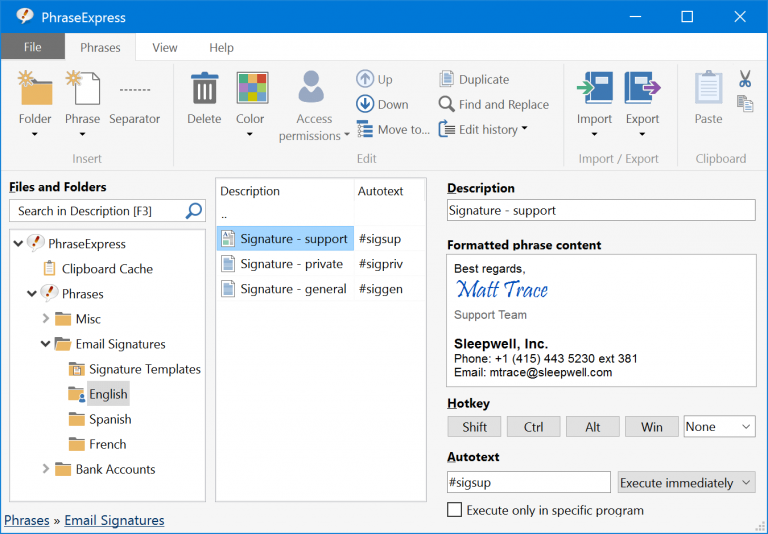 Sometimes we think email is taking over our lives. If you're anything like ourselves, we find our day is spent answering support emails, often writing the same replies to different people.
Ideally, we'd deploy tools to write these replies for us. The next best option is a phrase automation tool, such as PhraseExpress 13, which has just received a huge update.
PhraseExpress 13 is a tool that enables you to expand memorable phrases in longer words and even sentences. As a example, if you find you're writing the same paragraphs to multiple people, simply set up the phrases you want to complete based on a keyword. When you start typing "Thank you", PhraseExpress offers a drop-down menu of your pre-defined phrases which you can use to quickly auto-complete the rest of your paragraph.
In addition to autocompleting your words, you can use abbreviations, much like you'd write on your smartphone. So if you're used to writing a 3-letter abbreviation, you can use PhraseExpress to expand this into something more appropriate for your email correspondence.
There are lots more powerful features with PhraseExpress, such as an auto-correct tool and snippet manager. However, the Macro Recorder is a very usual tool. Automation enables you to set up your work so you do not have to repeat key tasks. Simply arrange for PhraseExpress to record a mouse movement and then play it back each time you want to repeat the task.
So, what's new in v13? The corporate identity feature will automatically change your words so they reflect your company brand identity. Quickly change words to certain fonts, style, sizes and much more. You receive a new macro editing tool and the phrase link tool enables you to link up key phrases you use over and over.
PhraseExpress 13 is available as a freeware version for personal use. If you want to use PhraseExpress within any commercial organization or between colleagues, the Standard edition is available for $49.95 with a lifetime license and a year of maintenance updates.